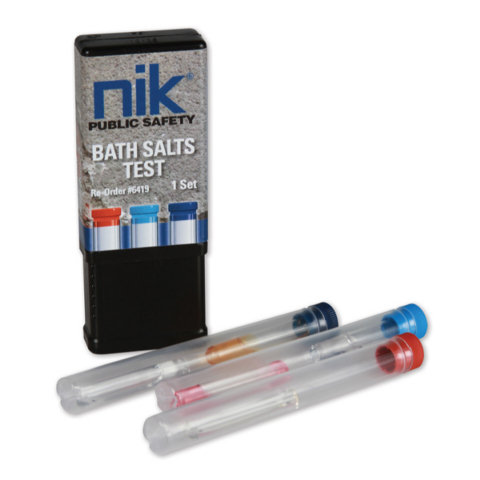 Click on image for larger view
NIK Bath Salts Test
Our Price $9.50 | No: 43-2130 | Mfg: 6419
These Products Cannot be Shipped by Air.
The recent proliferation and criminalization of "bath salts" as controlled substances have necessitated the creation of a new drug test kit for field testing. Forensics Source now offers law enforcement officials a simple and effective presumptive drug test to combat this problem.
This new Bath Salts Test Kit incorporates their high quality Scott's and Marquis Reagents kits along with a Sodium Nitroprusside Reagent kit to presumptively identify bath salts in the field. The bath salts tests come packaged in a single-use, three stick test kit that ensures you have all necessary tests on-hand at all times. This cost effective solution is now available in NIK™ to complement their other colorimetric drug test kit lines.
The use of three tests as compared to one provides a stronger scientific basis for the presumptive identification of the components of Bath Salts. A positive test result in just a single test is not conclusive enough, by itself, to determine the presence of Bath Salts. Each of the tests sticks can have a positive result with other illicit narcotics, but not in combination from a single source, other than Bath Salts. The multiplicity of the results will provide better results than just a single positive test.
NIK Bath Salts Test Kit Features:
• Stick test configuration is quick, easy and inexpensive to use
• Test kit contains all 3 reagents needed to presumptively test for bath salts
• All tests come packaged in a convenient plastic container
• Stores easily and serves as a disposal case for used reagents
• Instructions included with all tests
---
Related Products