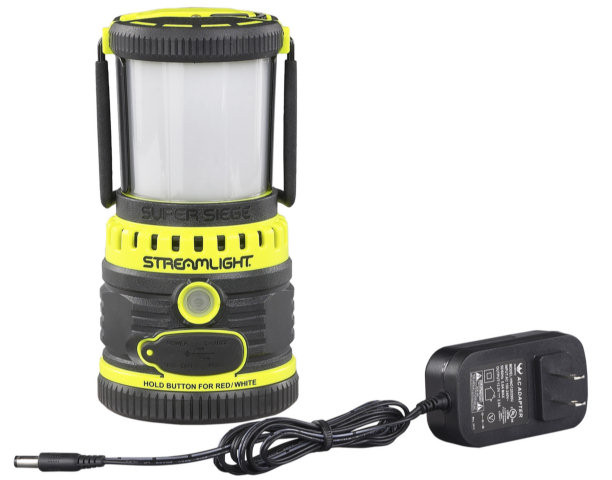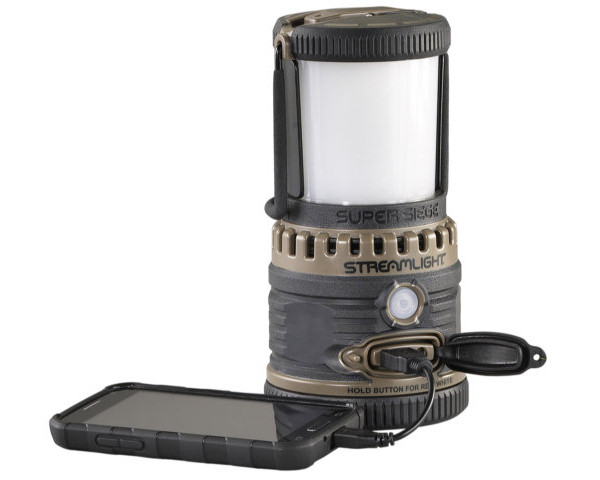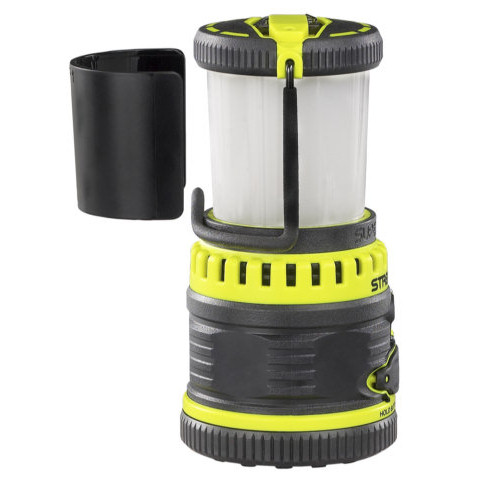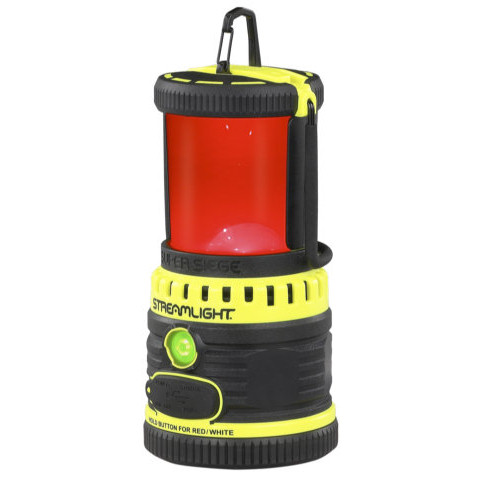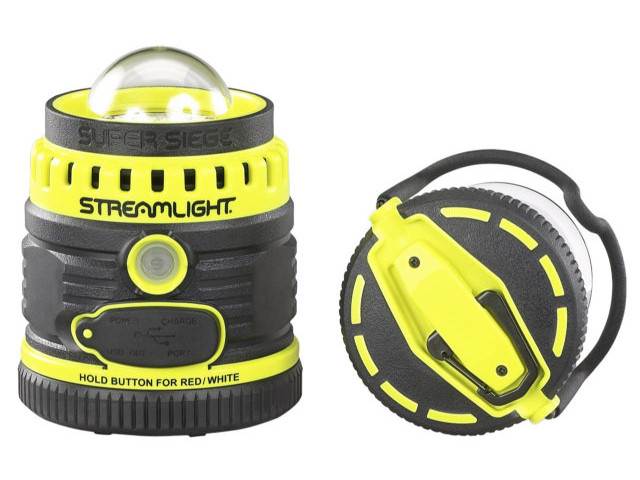 Click on images for larger view
Streamlight Super Siege Rechargeable Lantern

Yellow


IN STOCK

Our Price $150.00
Retail $200.00
No: 10-4010-000 | Mfg: 44945
Coyote


IN STOCK

Our Price $150.00
Retail $200.00
No: 10-4011-000 | Mfg: 44947
The Streamlight Super Siege® Lantern features five C4® power LEDs, one white and four red with six output modes and a battery level indicator built into the on/off button. An 8800 mAh rechargeable lithium ion battery supplies the power for the lantern as well as enabling you to recharge all your electronic devices from the handy USB port. With the outer lantern globe in place, the light will float. Use the lantern with or without the outer globe cover. Remove the outer globe and hang the body upside down by the D ring for large area lighting needs. A small dry storage area is provided in the base of the light for all your "keep dry" needs. Simply rotate the bottom cover counter clock wise to remove and access the storage compartment.
Streamlight Super Siege Lantern Features:
• C4® LED technology for extreme brightness
• Battery charge indicator in the on/off button
• IPX7 rated for water proof operation, to 1 meter submersion
• 2 meter impact resistance tested
• Glare Guard supplied with the lantern
• D-Rings top and bottom for easy attachment
• Spring loaded to fold out of the way when not in use
• Ergonomic handle makes the light easy to carry
• Handle is designed to hook on any edge or bar
Streamlight Super Siege Lantern Specs:
• Case Material: Tough Polycarbonate thermoplastic construction with elastomer over mold
• Available in Safety Yellow and Coyote color
• Dimensions: Base Diameter: 3.80", Height: 7.5"
• Weight: 1 lb 14.0 oz
• Lens: Unbreakable polycarbonate lenses
• Battery: Rechargeable 8800 mAh Lithium Ion battery
• Light Source: One White C4® LED technology, impervious to shock with a 50,000 hour lifetime, and four Red C4® LED
• Warranty: Streamlight's Limited Lifetime Warranty
Streamlight Super Siege Lantern Lumens with outer globe removed:
• Low: 125, Red 1
• Medium: 550
• High: 1100, Red High 2.7
• Red SOS flashes at "Red high lumen level"
Streamlight Super Siege Lantern Run Times:
• Low = 35 Hrs, Low Red = 288 Hrs
• Med = 10.5 Hrs, High Red = 110 Hrs
• High = 5 Hrs, SOS = 230 Hrs
---