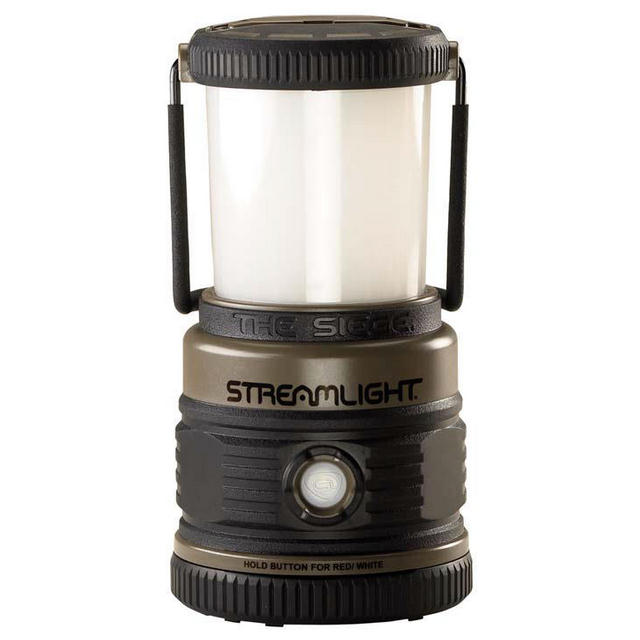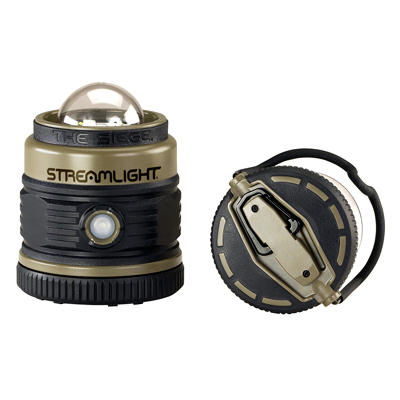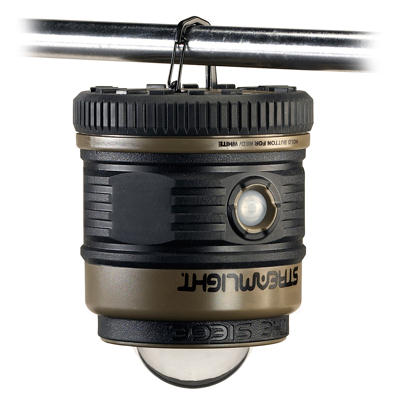 Click on images for larger view
Streamlight Siege Lantern - Coyote

Streamlight Siege Lantern - Coyote

IN STOCK

Our Price $41.39
Retail $63.67
No: 10-4000-000 | Mfg: 44931
The Streamlight Siege Lantern is a rugged, cordless, alkaline battery-powered lantern that provides 360° of soft, even light that illuminates a large area. It has a removable, polycarbonate, glare-reducing cover that provides soft, even 360° light distribution. Comfortable to use in close quarters without impairing vision.
The handle is designed to lock in an upright or stowed position and incorporated a hook that allows for hanging on horizontal rope, cables and pipes.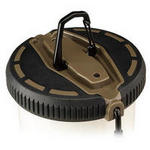 A recessed power button prevents accidental actuation and features a battery level indicator.
Multiple modes:
- White LED (four C4® LEDs) with cover removed:
• High for brightest light; 340 lumens; runs 30 hours
• Medium for bright light and longer run times; 175 lumens; runs 70 hours
• Low provides extended run times for when less light is needed; 33 lumens; runs 295 hours
- Red LED (one red LED)

• Red LED High - Steady (night vision preserving mode); 10 lumens; runs 235 hours
• Flash SOS mode for emergency signaling; 10 lumens; runs 430 hours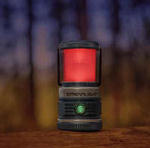 Streamlight Siege Lantern Features:
• C4® LED technology for extreme brightness
• Battery Indicator in the on/off button- Changes from Green to Yellow to Red when the batteries become weak
• IPX7 rated for water proof operation. To 1 meter submersion
• 2 meter impact resistance tested
• D - Rings top and bottom for easy attachment
• Spring loaded to fold out of the way when not in use
• Ergonomic handle - Makes the light easy to carry and is designed to hook on any edge or bar
Streamlight Siege Lantern Specs:
• Tough Polycarbonate thermoplastic construction with elastomer over mold
• Available in Coyote color
• Base Diameter: 3.80 in. Height: 7.25 in
• Weight: 1 lb 15.0 oz with batteries
• Unbreakable polycarbonate lenses
• Uses Four white C4® LEDs and one Red C4® LED
• LEDs are impervious to shock with a 50,000 hour lifetime
• Light Output: Lumens with outer globe removed
• Output: High 340 Lumens, Red High 10 Lumens
• Output: Medium: 175 Lumens, Red SOS flashes at high lumen level
• Output: Low: 33 Lumens
• Run Time: High = 30 Hrs, Red = 235 Hrs
• Run Time: Medium = 70 Hrs, SOS = 430 Hrs
• Run Time: Low = 295 Hrs
• Uses 3 "D" size, Alkaline batteries (not included)
---