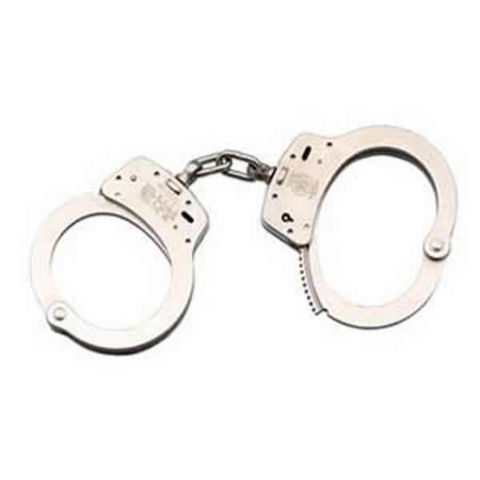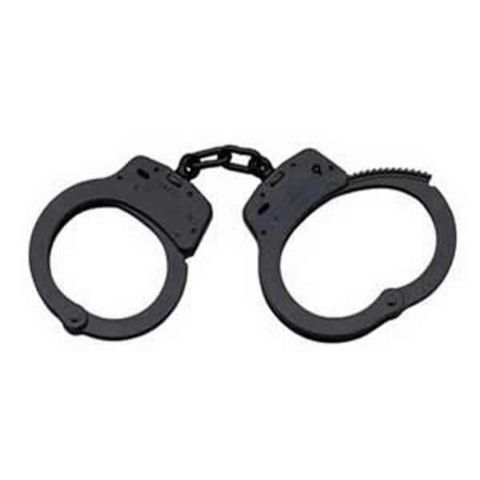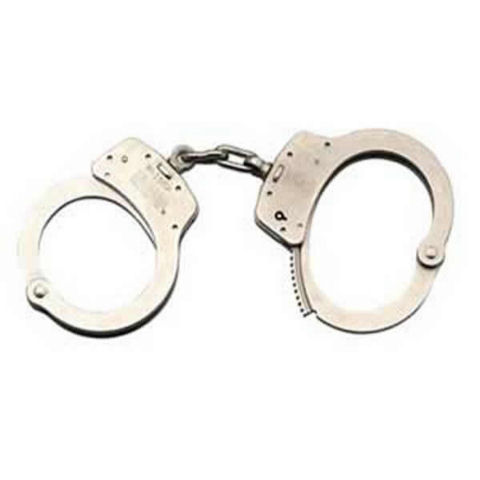 Click on images for larger view
Smith & Wesson 100 Chain Link Handcuffs

Model 100 - Satin Nickel Finish
Our Price $29.79
Retail $31.36 | You Save 5%
No: 19-1500 | Mfg: 415-350103
Model 100 - Blue Penetrate Finish
Our Price $29.79
Retail $31.36 | You Save 5%
No: 19-1501 | Mfg: 415-350101
Model 100P - Satin Nickel Finish:
Push-Pin Lock
Our Price $38.95
No: 19-1502 | Mfg: 415-350135
Smith & Wesson now offers models of pushpin activated double-locking handcuffs. The chained Model 100 cuffs and hinged Model 300 are available with either a pushpin or slot-activated double locking mechanism.
So now, whether you prefer chained or hinged cuffs, and whether you prefer a pin or a slot double-lock, it's available with Smith & Wesson quality.
The standard Smith & Wesson Model 100 handcuff is made of heat-treated carbon steel. It meets or exceeds National Institute of Justice requirements. Smooth single strand action allows for fast and efficient cuffing while the rounded edges minimize the risk of tissue and nerve injuries. Two standard keys supplied.
Smith & Wesson 100 Chain Link Handcuffs Features:
• Weight: 10oz.
• Made of carbon steel
• Minimum opening: 51 mm/2 inches
• Minimum inside perimeter: 150 mm/5.9 inches
• Maximum inside perimeter: 211 mm/8.3 inches
• Maximum overall length: 236 mm/9.3 inches
• Slot double-lock (push pin optional)
• Choice of Satin or Blue Penetrate Finish
---
Specialty Handcuff Keys