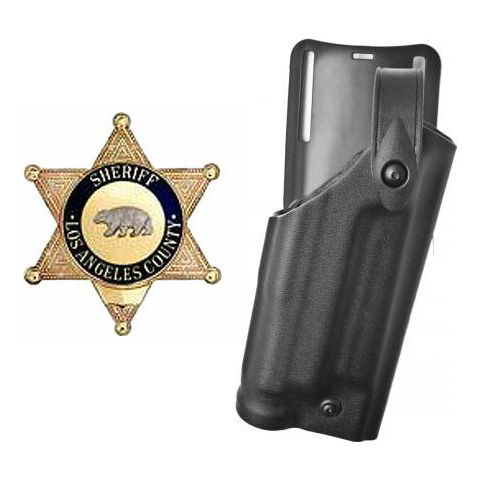 Click on image for larger view
Safariland 6285LASD - Beretta 92F w/MR11 Rail Adapter & X300U Tactical Light
Our Price $113.90 | You Save 15% | Retail $134.00
No: 23-1041

Free Shipping on this item
Note: This holster will not fit the beretta 92F Firearm without the below components.
This Safariland 6285LASD Low-Ride Holster is designed specifically to accomodate taking the issued Los Angles County Sheriff's Department Beretta 92F pistol "Off Safe" during the draw stroke and to fit the Beretta 92A1, 92F and 92FS pistols with the SureFire MR11 Rail Adapater and SureFire X300U Weapon Light. Tested throughly by the LASD Weapons Training Staff, TAS & SEB.
Safariland 6285LASD - Beretta 92F w/MR11 Rail Adapter & X300U Tactical Light Features:
• Low-Ride (1.5" drop), level II retention holster
• Lined in black suede around pistol only, light channel un-lined
• Fits Beretta 92F w/SureFire MR11 Rail Adapter & X300U Weapon Light
• Available in STX Tactical & STX Basketweave
---
Available Accessories
SureFire MR11 Pistol Rail Adapter: Beretta 92/96 pistols
Learn more...

SureFire X300U-B LED WeaponLight - 600 Lumens - Black - T-Slot Mounting
Learn more...

SureFire DG Grip Switch Assembly for X-Series
Learn more...