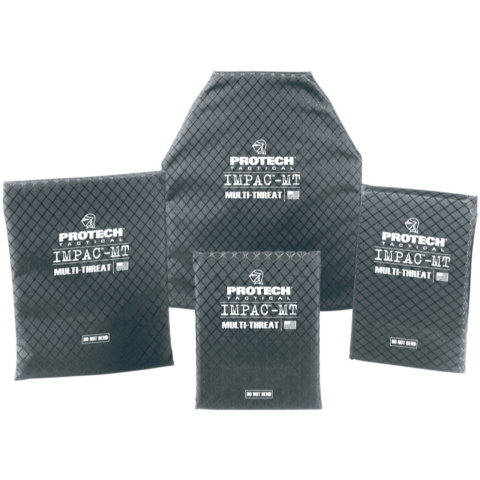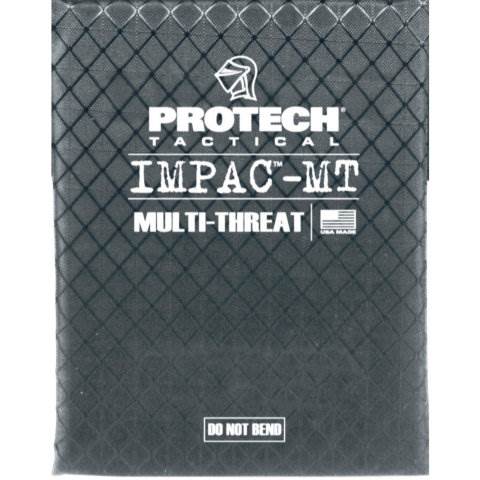 Click on images for larger view
ProTech IMPAC-MT Multi-Threat Plates
Our Price $120.00 to $224.00 | You Save 20% | Free Shipping | Retail $150.00 to $280.00
No: 89-1210

These items all qualify for FREE Shipping.
NOTE: This product is available to Law Enforcement and Military Personnel.
Click here for General Law Enforcement/Military only item restrictions
The ProTech IMPAC-MT (Multi-Threat) Plates combin the precision fabricated technology of the IMPAC-HT and the benefits of stab protection from the IMPAC-CT/DT plates. The ProTech IMPAC-MT offers multi-threat defense against high-velocity handgun rounds, as well as spike and edged blade instruments.
NOTE: ProTech IMPAC special threat plates are tested stand-alone but are intended to be used ICW (In-Conjunction With) an NIJ approved flexible body armor vest.
ProTech IMPACT-MT Multi Threat Plate Features:
• Polyethylene/Fiberglass composite
• Four sizes offered
• Lightweight
• Designed to protect against handgun & stab/edged blade threats
ProTech IMPACT-MT Multi Threat Plate sizes & weights:
• 5" x 7" for shorter torso lengths, 0.73 lb
• 5" x 8" standard offering, 0.81 lb
• 7" x 9" for expanded torso protection, 1.23 lbs
• 10" x 12" military-style shooter's cut, 2.00 lbs
ProTech IMPACT-MT Multi Threat Plate tested against:
• Speer .357 Sig. 125gr. FMJ - 1470 fps: 3 impacts per plate
• Speer .44 Mag, 240gr. SJHP - 1430 fps: 1 impact per plate
• Rem. 9 mm, 124 gr. FMJ - 1400 fps: 3 impacts per plate
• Win. 9 mm +P+, 127gr. SXT - 1250 fps: 3 impacts per plate
• Speer .357 Sig, 125 gr. GDHP - 1375 fps: 3 impacts per plate
• Norinco 7.62 x 25 Tokarev, 85gr. FMJ - 1530 fps: 3 impacts per plate
• FN 5.7 x 25 mm, 28gr. SS195LF - 2070 fps (avg.): 3 impacts per plate
• FN 5.7 x 25 mm, 40gr. SS197 - 1752 fps (avg.): 3 impacts per plate
• Remington 9mm +P, 101 gr. Plated Frangible Disintegrator - 1096 fps: Impacts 3
• (IQ) Aquila 9mm, 65 gr. - 1630 fps: 3 impacts per plate
ProTech IMPAC-MT Multi-Threat Plate Spike/Edged Weapons:
• Spike: Protection Level 3
• Knife Blade P1 Edge Blade: Protection Level 3
• Knife Blade S1 Edge Blade: Protection Level 3
---