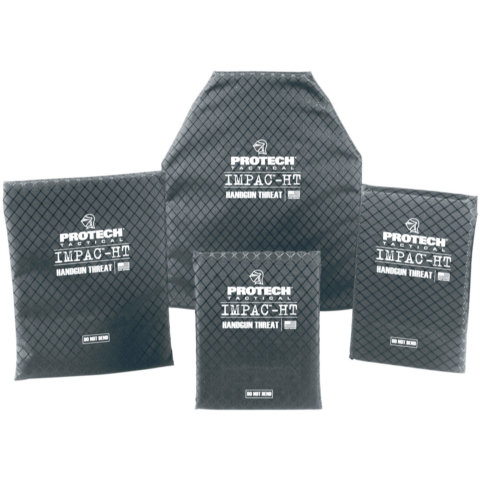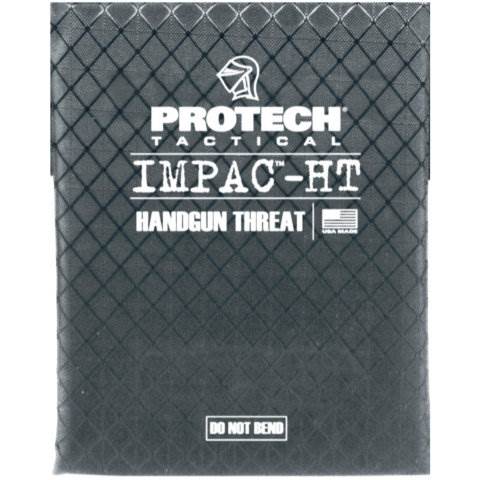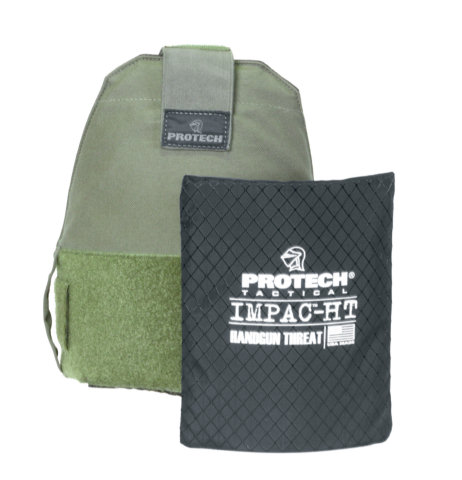 Click on images for larger view
ProTech IMPAC-HT Handgun Threat Plates
Our Price $96.00 to $180.00 | You Save 20% | Retail $120.00 to $225.00
No: 89-1200

Selections over $99 qualify for FREE Shipping.
NOTE: This product is available to Law Enforcement and Military Personnel.
Click here for General Law Enforcement/Military only item restrictions
High-velocity handgun threats are growing every day. ProTech's IMPAC HT (Handgun Threat) provides protection against some of today's toughest special threat rounds. Ten times stronger than steel, the ProTech IMPAC HT is precision fabricated with multiple layers of unidirectional polyethylene, compressed at ultra-high pressures to form a lightweight, semi-rigid special threat plate.
NOTE: ProTech IMPAC special threat plates are tested stand-alone but are intended to be used ICW (In-Conjunction With) an NIJ approved flexible body armor vest.
ProTech IMPAC-HT Handgun Threat Plate Features:
• 100-percent polyethylene composite
• Four sizes offered
• Lightweight
• Designed to protect against handgun threats
ProTech IMPACT-HT Handgun Threat Plate sizes & weights:
• 5" x 7": 0.30 lb
• 5" x 8": 0.30 lb
• 7" x 6": 0.40 lb (upper arm)
• 7" x 8": 0.50 lb (upper arm)
• 7" x 9": 0.5 lb
• 10" x 12" Shooter's cut: 0.70 lb
• 10" x 12" Rectangle cut: 0.80 lb
• Thinness: 0.3"
ProTech IMPACT-HT Special Threat Plate tested against:
• Speer .357 Sig. 125gr. FMJ - 1470 fps: 3 impacts per plate
• Speer .44 Mag, 240gr. SJHP - 1370 fps: 1 impact per plate
• Win. 9 mm +P+, 127gr. SXT - 1250 fps: 3 impacts per plate
• Speer .357 Sig, 125 gr. GDHP - 1375 fps: 3 impacts per plate
• Norinco 7.62 x 25 Tokarev, 85gr. FMJ - 1530 fps: 3 impacts per plate
• FN 5.7 x 25 mm, 28gr. SS195LF (Belgium) - 2092 +/- 30 fps (avg.): 3 impacts per plate
• FN 5.7 x 25 mm, 40gr. SS197 (Blue Tip) - 1712 fps (avg.): 3 impacts per plate
---