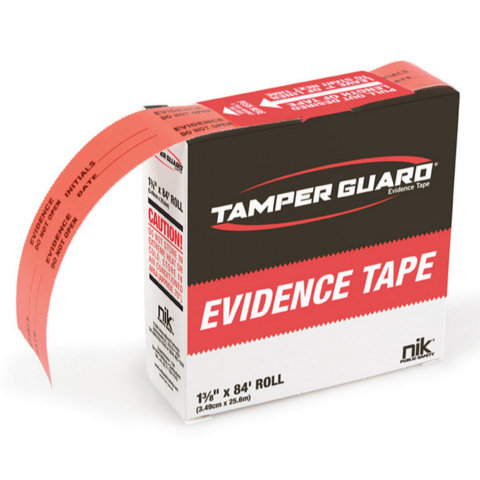 Click on image for larger view
NIK Tamper Guard Evidence Tape - 84 Ft.
Our Price $17.50 | You Save 5% | Retail $18.50
No: 43-1005 | Mfg: BD2100
Virtually impossible to violate, Tamper Guard Evidence Tape outperforms all evidence tapes and is ideal for anchoring and sealing today's exotic plastics and other finishes. Each roll is printed in safety orange using a special dye that will bleed and smear if it comes into contact with most solvents, and is printed on a thin acrylic stock that tears easily. A superior adhesive and minute saw-tooth edges along both sides of the tape leave signs of tampering. Easy to write on, this tape is ideal for sealing evidence or for secure storage of nearly any item. Each roll measures 1.25" x 84' (3.1 cm x 25 m).
NIK Tamper Guard Evidence Tape Features:
• Works on almost all surfaces
• Long shelf life ensures consistent performance
• Each roll is 84' L x 1-3/8" W
---