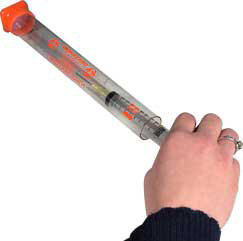 Click on image for larger view
Eva-Save Syringe Tubes - 12 Count
Our Price $36.00 | No: 43-5120 | Mfg: 3-3872
An improved syringe collection tube is now available which meets OSHA requirements. It is made of a clear, heavy 30 mil. plastic tube with international biohazard markings printed in bright orange on the side. The end caps are also bright orange.
The inside measurements of the tube are 7 3/4" long by 1" in diameter. One end cap is not removable. This end contains an inert sealing material which will enclose the "business" end of the needle. This sealing material is designed to prevent leakage of the contents of the syringe.
---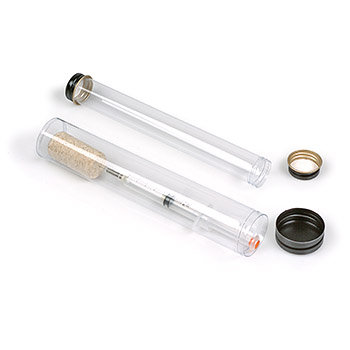 Click on image for larger view
Evidence Tubes

Small - 100 count

Our Price $144.25
No: 43-5125 | Mfg: 3-3870
Large - 50 count - with Cork
Our Price $79.50
No: 43-5126 | Mfg: 3-3871
Plastic tubes with corks and metal caps are excellent for the safe storage of sharp evidence, such as syringes.
Available in two sizes: a large 1.25" x 7.5" tube which includes a cork and a small 0.875" x 7.25" tube. Both sizes include a protective metal cap. Large tube is ideal for sharps or knives.
• Two sizes available
• Large tube includes cork
---