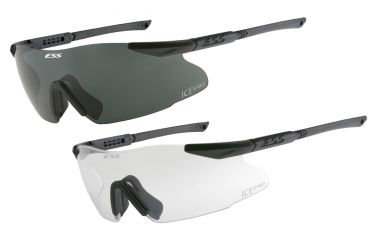 Click on image for larger view
ESS ICE 2X NARO Eyeshield
Our Price $67.50 | You Save 10% | Retail $75.00
No: 78-2011 | Mfg: 740-0001
NEVER CHANGE A LENS AGAIN!!!
The new ESS ICE-2X NARO™ is the world's first spectacle kit to feature two complete eyeshields. Designed specifically for smaller faces, this new configuration eliminates time spent changing lenses, allowing users to quickly switch between pre-assembled eyeshields to adapt to changing light environments. Additionally, this new configuration helps extend product life by eliminating wear and tear on lenses that can occur when swapping lens colors. Authorized for use in the USMC & USAF.
The ICE-2X NARO™ includes: Two fully-assembled ICE NARO™ eyeshields with Clear & Smoke Gray lenses, an elastic retention strap, an anti-fog cloth and a protective hard case.
Interchangeable Component Eyeshield (ICE™) Series, the ICE-2X NARO™ is a lightweight, frameless eye protection system that offers a unique combination of high-impact resistance, unrestricted field of view, and interchangeable lenses for effective eye protection in any light condition.
Equipped with the new ICE™ temple designs, ICE NARO™ eyeshields feature improved fit with headborne equipment and increased ease of temple adjustment and lens interchange.
Adjustable earbends allow for a comfortable, secure, anatomical fit. Telescoping temples offer bend-to-fit inner-wire ear tabs and a snap-on leash system.
All ICE NARO™ lenses provide 100% UVA/UVB protection, and exceed ANSI Z87.1-2003+ and the U.S Military .15 caliber ballistic impact test MIL-PRF-31013.
Rx Lens Inserts available (P-2B Rx Insert™ compatible with the Profile NVG™ goggle; Vice™ Rx Insert compatible with the Advancer V-12™ goggle).
Note: Although this configuration includes two fully-assembled eyeshields, these ICE NARO™ lenses are still interchangeable, making it possible to integrate additional lens colors or replaced damaged lenses.
Note on Size: ICE NARO™ eyeshields are slightly smaller than regular ICE™ eyeshields; the temple to temple distance of a regular ICE™ is ~6 inches while the ICE NARO™ measures at ~5.5 inches.
Features:
• Night-Vision Compatible
• 2.4mm Lenses
• Extra-Wide Field of View
• Interchangeable Lenses
• ANSI Compliant
• Mil Spec
• ToughZone Lenses
• 2X Kit
• Rx Available
---