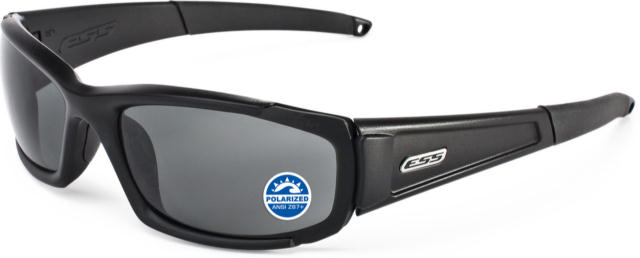 Click on image for larger view
ESS CDI with Polarized Mirrored Gray Lenses
Our Price $121.50 | You Save 10% | Retail $135.00
No: 78-3005 | Mfg: 740-0529

Free Shipping on this item
The resilient, battle-hardened CDI™ sunglass has a long track record of saving eyes and lives in hostile situations. Now with high-impact, ANSI Z87.1-rated polarized lenses, the CDI™ offers new ways to protect your eyes from hazards and glare.
The ESS CDI Polarized Mirrored Gray high-impact lenses can be easily exchanged for quick adaptation to your environment. Its high-speed low-drag frame and shatter-resistant lenses make the CDI™ comfortable and cool enough for downtime yet functional and rugged enough for the battlefield. Medium fit.
The CDI's Lateral Exchange System™ makes interchanging any of the seven available lens colors quick and easy.
ESS CDI Polarized Mirrored Gray Sunglasses Features:
• 2.2mm Lenses
• Interchangeable Lenses
• ANSI Compliant*
* ANSI Z87.1-2003+ compliant. All CDI™ lenses provide 100% UVA/UVB protection.
ESS CDI Polarized Mirrored Gray Kit Includes:
• Black CDI frame
• One set of 2.2mm high-impact Polarized Mirrored Gray lenses
• Micro-fiber pouch/cleaning cloth
• Zippered hard case
---
Click on images for larger view
ESS CDI Polarized Replacement Lens - 2.2mm lenses
Our Price $67.50 | You Save 10% | Retail $75.00
No: 78-3006 | Mfg: 740-0319
ESS Polarized Mirrored Gray 2.2mm polycarbonate replacement lenses for the CDI™ sunglass. These polarized lenses reduce glare and eye strain, in addition to providing 100% UVA/UVB protection.
ESS CDI™ replacement lenses are also available in Clear, Smoke Gray, Hi-Def Yellow, Mirrored Copper, Mirrored Gray, and Mirrored Silver.
The CDI's Lateral Exchange System™ allows quick lens interchange:
Important Note: ESS polarized lenses do not offer the same level of impact protection as non-polarized lenses. Although these lenses exceed ANSI Z87.1 requirements and are thus considered compliant with U.S. Federal OSHA, they do not meet the same MIL SPEC impact tests that non-polarized CDI sunglasses lenses do. Polarized products WILL NOT protect against all impacts nor will they protect against all chemical splashes.
---