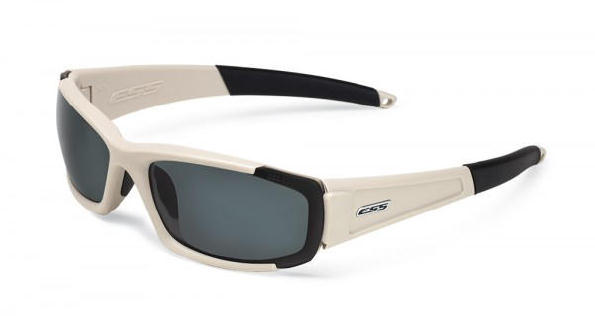 Click on image for larger view
ESS CDI - Desert Tan - Medium Fit Sunglass Kit
Our Price $90.00 | You Save 10% | Retail $100.00
No: 78-3001 | Mfg: 740-0458
This ESS CDI Desert Tan Sunglass is a lightweight high-impact sunglass that is the first of its class. Available in five lens colors, the CDI's™ extra-thick polycarbonate lenses can be easily interchanged for quick adaptation to your environment. Its high-speed low-drag frame and shatter-resistant lenses make the CDI™ comfortable and cool enough for downtime yet functional and rugged enough for the battlefield. Medium Fit.
The CDI's Lateral Exchange System™ allows quick lens interchange.
Temples feature increased slide resistance and holes to accomodate the retention strap.
Other lens colors are available in Rose Copper, Hi-Def Yellow, and Mirrored Silver.
ESS CDI Desert Tan Sunglasses Includes:
• 1 - CDI Desert Tan Frame
• 2 - High-Impact Lenses (1 ea of Clear and Smoke Gray)
• 1 - Adjustable neck leash
• 1 - Micro-fiber cleaning cloth
• 1 - Protective soft case
ESS CDI Desert Tan Sunglasses Features:
• 2.2mm Lenses
• Interchangeable Lenses
• Mil Spec*
• ANSI Compliant*
* Mil Spec MIL-PRF-31013 and ANSI Z87.1-2003+ compliant. All CDI™ lenses provide 100% UVA/UVB protection.
---
CDI Replacement Lenses & Accessories