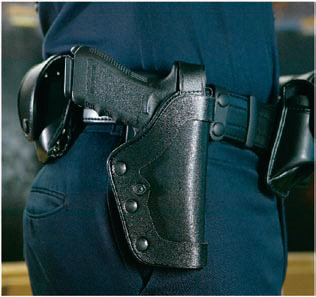 Click on image for larger view
Uncle Mike's PRO-3 SlimLine Triple Retention Duty Holster - Closeout

Mirage Plain / Right / Sig 9mm, .38 Super, .40, .45

Stock: 1

Closeout $54.75
Retail $89.45
No: 40-1502-022 | Mfg: 35223
Mirage Plain / Left / Glock 17, 19, 22, 23, 31

Stock: 1

Closeout $54.75
Retail $89.45
No: 40-1503-021 | Mfg: 35214
Mirage Basketweave / Right / Beretta Centurion

Stock: 1

Closeout $54.75
Retail $89.45
No: 40-1504-018 | Mfg: 35185
Mirage Basketweave / Right / SW 9mm, .40, Sub-Compact .45

Stock: 1

Closeout $54.75
Retail $89.45
No: 40-1504-018 | Mfg: 35185
Closeout Sales are Final - Click Here for Closeout Policy
The emphasis on weapon retention in duty holsters is greater today than ever before, but this vital need to protect the gun must be balanced with the ability to draw the officer's weapon efficiently.
PRO-3 duty holster positively locks the gun to make snatching extremely difficult from the front, rear, top or side. Yet, with a swift, simple motion, the officer can release the thumb break and draw the gun cleanly without the need to release any complicated system of snaps and straps.
The weapon features a patented laminated construction - either Mirage® or Kodra® nylon exterior, foam core and smooth nylon lining.
• Three types of independent retention
• Patented internal locking device
• Retention strap/thumb break
• Adjustable tensioning device
• Patented construction
• Select MIRAGE® or Kodra® nylon exterior
• Positive trigger guard stop
• Holster suspended with patented thermoplastic exo-skeleton
• Non-stretch retention strap
• Molded thumb break stay open for easy one-handed reholstering
• Contoured thumb break discourages blading
• Molded sight track protects front sight and reduces holster wear
• Injection molded belt loop
---