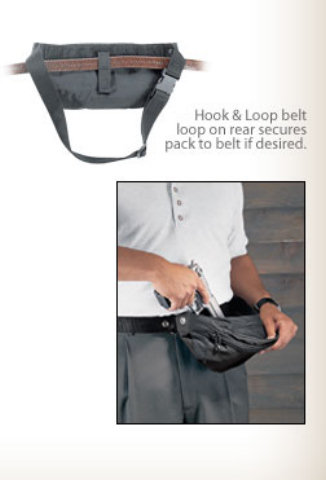 Click on image for larger view
Uncle Mike's GunRunner Fanny Pack Holster - Medium
Our Price $45.01 | You Save 15% | Retail $52.95
No: 40-1721 | Mfg: 88731
The GunRunner is an unassuming Fanny Pack holster designed to accommodate all basic firearm sizes. Like the Gun Pak, its lack of an internal holster allows a quick, smooth draw and, more importantly, a one-handed return.
• Generic-appearing black belt pack
• 3 zip compartments
• Attach to waist or belt
• Reholster & close Hook & Loop with one hand
• Secure firearm with Hook & Loop panel and 12" strap
• 1.5" wide adjustable nylon web belt with quick-release buckle
Medium: 12.5" x 6.125"

• Fits compact 9mm, .40 and .45 autos
• Fits 2" to 3" barrel medium revolvers
• Fits most full-size service pistols

---