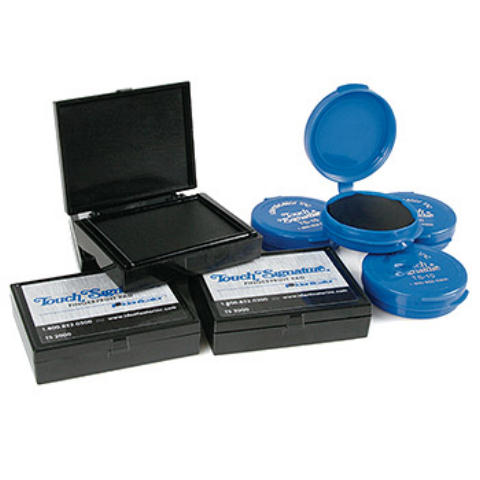 Click on image for larger view
Touch Signature Ink Pads by Indicator

Round Pad / Single Unit
Our Price $5.77
Retail $6.20 | You Save 7%
No: 43-6002 | Mfg: 43-6003x1
Round Pad / Six Units
Our Price $29.50
No: 43-6003 | Mfg: TS 10
Rectangular Pad / Single Unit
Our Price $8.14
Retail $8.75 | You Save 7%
No: 43-6004 | Mfg: TS 2000
Touch Signature® pads bu Indicator are a convenient method of assuring a customer's identity, particularly for the purpose of check cashing and new account opening. Through the use of Touch Signature® you can dramatically reduce bad check losses. The inking surface of Touch Signature® Pads is a hard, porous surface that won't dry out during the life of the pad and facilitates even ink transfer. Fingerprints are consistently clear on any paper stock and dry instantly, preventing smearing. In addition, the ink utilizes non-toxic pharmaceutical grade chemicals.
Available in two different models, the larger rectangular pad features a larger usable surface area than any pad in its class. Its rectangular surface provides ample space for flat and rolled prints. The lid opens completely away from the base for easy access and can be removed for theft deterrence. Each pad produces 1000 prints per pad and measures 1.75" x 2.25". A small, round compact pad is also available. Popular with banks and pawn shops, this pad is ideal for placing thumb prints on the back of checks or other documents. Measuring 1.5" in diameter, it will produce up to 500 prints per pad. Both pads feature foam adhesive on the base, for adhering to a countertop.
Touch Signature® Pads Important Features:
• Clear, consistent fingerprints that can be scanned into AFIS
• Fingerprints dry instantly and are smear resistant
• Ink is easily removed by rubbing the fingers together
• Ink utilizes nontoxic, pharmaceutical grade chemicals
• No special cleaners or towelettes required
• Hard, porous surface won't dry out during the life of the pad
• Adhesive backing for securing to any work surface
Touch Signature® Pads Recommended Uses:
• Financial Transaction Verification
• Signature Verification
• Notary
• Real Estate
• Overall Identity Verification
Touch Signature® Pads do not meet FBI requirements for applicant cards and should be used for commercial pruposes only.
---