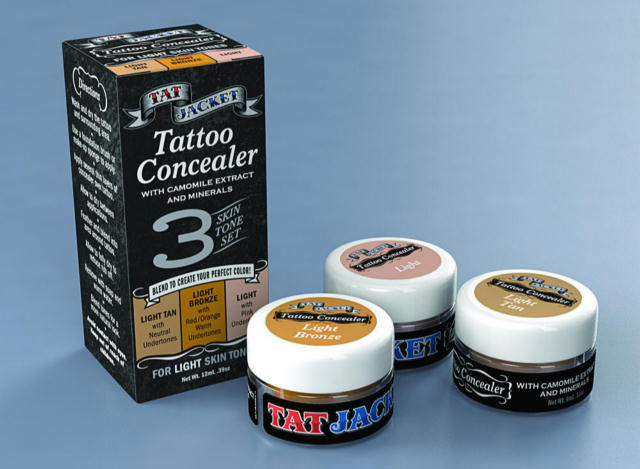 Click on images for larger view
TatJacket Premium Concealer Blender Pack - Closeout

Pack 1 - Light, Light Tan, Bronze

SOLD OUT

Closeout $11.50
Retail $19.95
No: 82-2060-000 | Mfg: TC586 BP1
Pack 2 - Dark Tan, Med Bronze, Dark Bronze

Stock: 1

Closeout $11.50
Retail $19.95
No: 82-2061-000 | Mfg: TC587 BP2
TatJacket Premium Concealer is what you have been looking for in a good tattoo concealer makeup. They have taken some of the best features of the other products out there and created the perfect Tattoo cover-up product. This concealer is smooth and very concentrated. The airless pump is a clean and more sanitary way to deliver this creamy and bendable liquid makeup. Easily apply with a makeup brush, sponge or your finger.
TatJacket Premium Concealer does not require a setting powder or spray. Conceals tattoos, dark spots, Acne, Rosacia, blemishes, veins, and scars.
These "Blenders" allow you to try the colors that you think are closest to your skin tone without buying a whole bottle. You can also use the variety of shades to blend the makeup and customize it to your unique skin tone.
• Blender Pack 1 is 3, 4ml jars of TatJackets 3 lightest tones
• Blender Pack 2 is 3, 4ml jars of TatJackets 3 darkest tones
TatJacket Premium Concealer Blender Pack Features and Benifits:
• Blenders let you try before you buy
• For all skin types
• Covers all tattoo types and colors
• 1-step process for faster results
• Retains elasticity (won't crack or flake)
• Resists rub-off
• Water resistant
• Cleans up with soap and water (no special removers required)
• Made in America with top quality ingredients
---