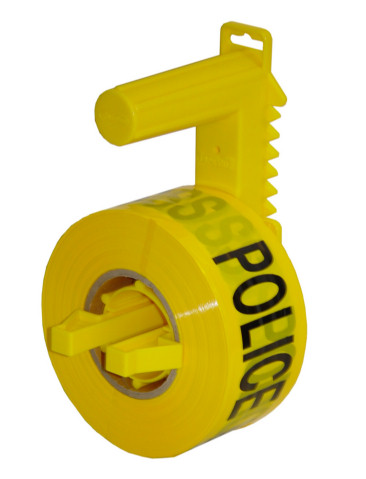 Click on image for larger view
TapeWiz Pro Dispenser with 1000' Barricade Tape
Our Price $15.94 | You Save 27% | Retail $21.83
No: 41-1100
Barricade tape helps alert the public to stay away from a contained area by increasing the visibility of hazards.
The tapes are printed with a continuous repeat message or warning in bold black letters on bright yellow 2-mil, non-adhesive tape. The tape is lightweight, durable, economical and can be tied, stapled or nailed in place to establish a high visible barrier with the appropriate message.
The heavy-duty TapeWiz Pro is a resuseable plastic dispenser that holds a 1,000 foot roll of tape. It allows tangle-free disbursement of tape and includes an integrated tape cutter as well as a notch to secure the loose end. It literally prevents tangling of stored tape and facilitates easy perimeter setup in any weather or environmental conditions.
• Each tape roll is 3" x 1000' in length.
• Holds 1000 ft of 2 - 4 mil. barricade tape
• Dispense tape easily with one hand in any weather
• Serrated edge cuts tape quickly
• Notch secures loose end
• No loose parts when reloading
• Actual size 8.75" x 3.64" x 4.88"
The tape is offered in these configurations: POLICE LINE DO NOT CROSS, SHERIFF'S LINE DO NOT CROSS, CRIME SCENE DO NOT CROSS, FIRE LINE DO NOT CROSS and CAUTION.
---