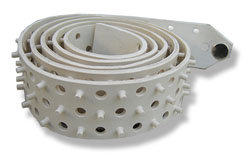 Click on image for larger view
Tailor Stays
Our Price $9.40 | You Save 22% | Retail $11.99
No: 50-9005
Hero's Pride Tailor Stays
These Tailor Stays keep shirts tucked in. 44" stretches to 46", cut to size.
Stays Buttoned- Button head diameter increased to resist pull-through.
More Durable- Reinforced end so button does not tear rubber end.
Blend In- Now available in white and grey to blend with your light or dark shirt.
---