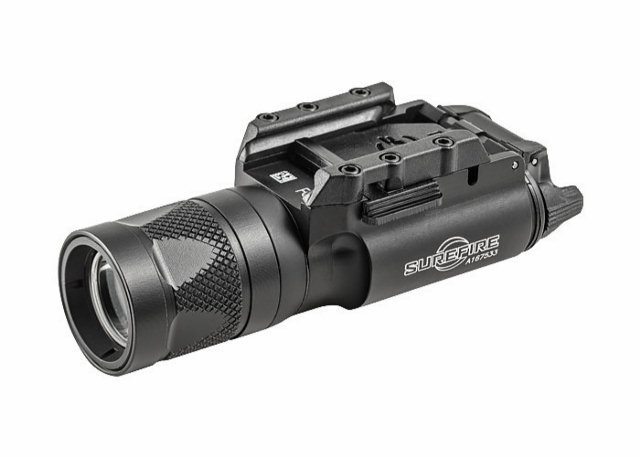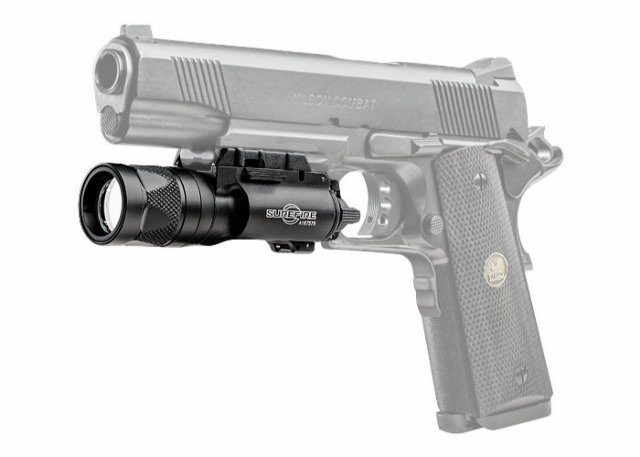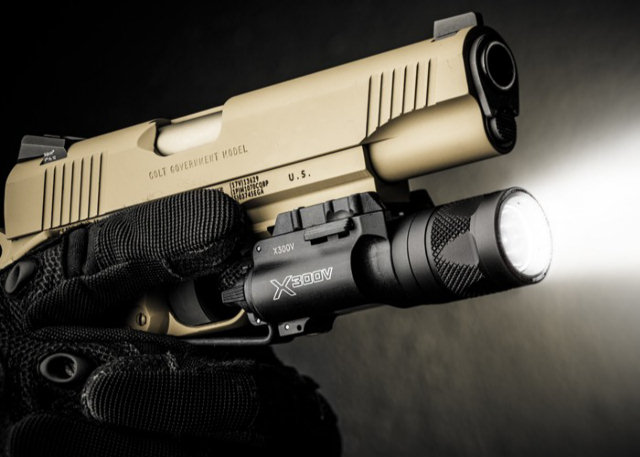 Click on images for larger view
SureFire X300V LED / IR Laser WeaponLight - 350 Lumens - Black
Our Price $401.95 | You Save 6% | Retail $429.00
No: 18-5217 | Mfg: X300V-B

Free Shipping on this item
The innovative, highly versatile SureFire X300V boasts white-light and infrared output capability from its all-LED V-Series head, and it also securely mounts to most handguns and railed long guns. Its versatility is simply unmatched. Switch easily between modes by pushing and twisting the knurled self-locking bezel selector.
In white-light mode, its virtually indestructible white-light LED generates an intense 350 lumen TIR-lensed focused beam that's critical for situational awareness and positive threat identification. In infrared mode, the IR LED produces 120 milliwatts of infrared output for use with night vision devices (NVDs). There is also an off setting on the bezel.
Activating the SureFire X300V is done via its patented toggle switch, which permits support-hand thumb activation for right- or left-handed shooters. Simply press the switch on either side for momentary-on activation or rotate up or down for constant-on. Optional DG grip switches are available for use with handguns and a pressure-activated XT07 tape switch for long guns is also available.
The rugged, adaptable SureFire X300V WeaponLight can be quickly attached to a handgun or a long gun using its Rail-Lock® system, which permits solid attachment to any Universal or MIL-STD-1913 (Picatinny) rail.
Constructed of high-strength aerospace aluminum with Mil-Spec hard anodizing for extreme durability, the ultra-reliable X300V is also O-ring sealed to withstand even the harshest conditions.
SureFire X300V LED WeaponLight Features:
• Virtually indestructible white-light/infrared LED head is regulated to maximize light output and runtime
• Total Internal Reflection (TIR) lens shapes white or IR light into focused beams
• Enough reach and surround light for close- to medium-range applications
• Features quick-detach Rail-Lock® system for rapid and secure attachment/detachment
• Accepts optional SureFire DG pistol grip and long gun forend switches
• Weatherproof-O-ring and gasket sealed
• Construction-High-strength aerospace aluminum
• Mil-Spec anodizing
• Impact-resistant polymer; coated tempered window
• Includes high-energy 123A battery with 10-year shelf life
SureFire X300V LED WeaponLight Specs:
• Max Output: 350 lumens
• Tactical Runtime**: 1.8 hours
• IR Output/Runtime: 120.0 mW / 8.0 hours
• Bezel diameter: 1.06"
• Length 4.0"
• Weight (w/batteries): 3.9 ounces
• Batteries: two (2) 123A (included)
**Runtime (at highest setting for multiple-output lights) until output drops below 50 lumens
---
Available Accessories
Safariland 6280 Level II Mid-Ride Duty Holster - Tac Light
Learn more...

Safariland 6004 Tactical Holster - Double Leg Strap
Learn more...

SureFire DG Grip Switch Assembly for X-Series
Learn more...

SureFire 123A - 3-Volt Lithium Batteries - Card of 2
Learn more...

Tenergy Lithium CR123A (3V) Propel Battery, PTC Protected
Learn more...

Energizer 123 (EL123), 3V Lithium Battery - Bulk
Learn more...