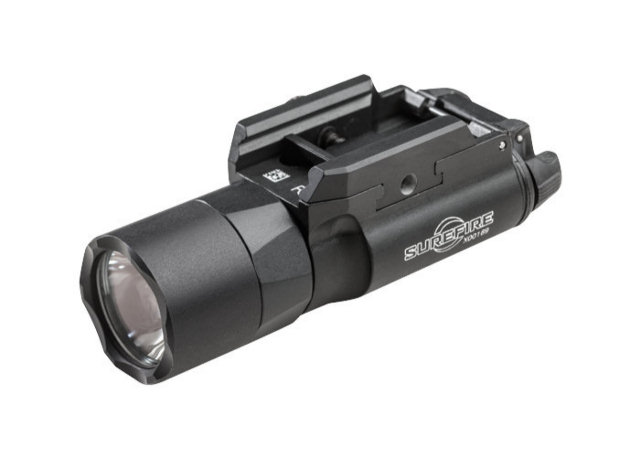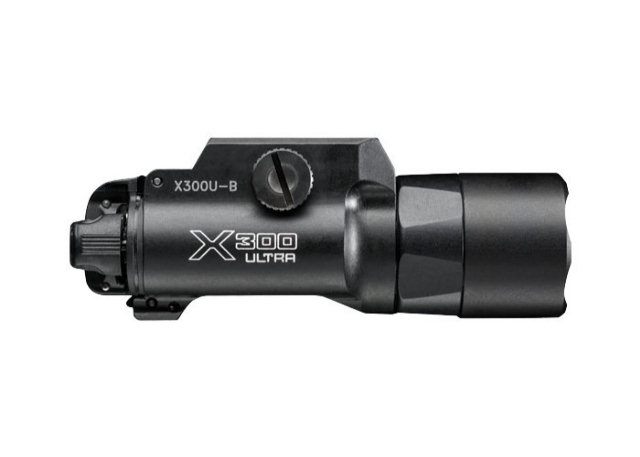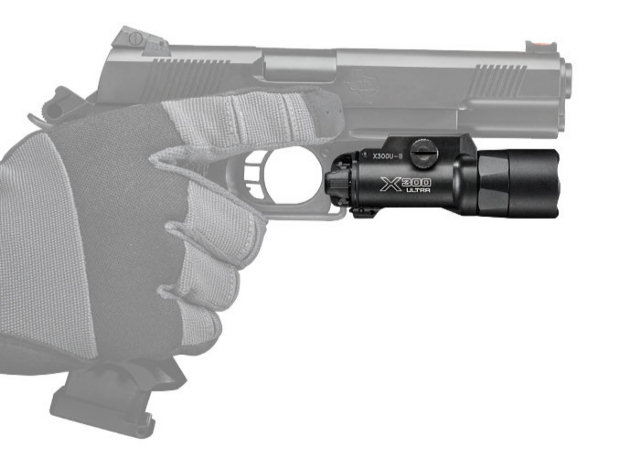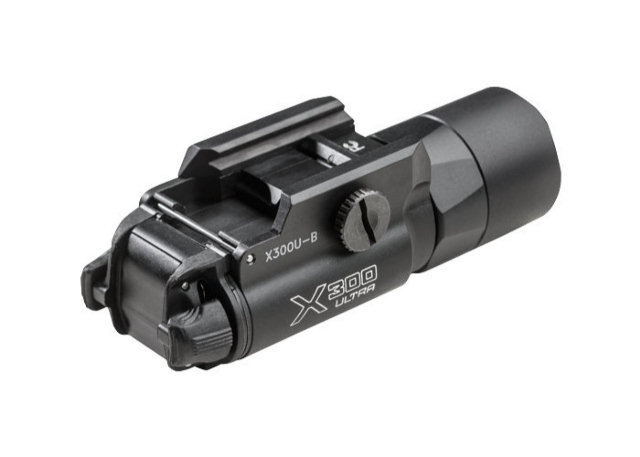 Click on images for larger view
SureFire X300U-B LED WeaponLight - 600 Lumens - Black - T-Slot Mounting
Our Price $285.30 | You Save 5% | Retail $299.00
No: 18-5206 | Mfg: X300U-B-BK

Free Shipping on this item
The powerful, virtually indestructible Suefire X300 Ultra WeaponLight was primarily designed for handguns but is also excellent for long guns and mounts securely to MIL-STD 1913 rail-equipped rifles via its newly enhanced T-slot mounting system. The SureFire X300U Weapon Light features a high-performance LED that generates 600 lumens of stunning white light that's focused by a Total Internal Reflection (TIR) lens to produce a high-intensity beam with extended range yet it provides significant surround light for peripheral vision in close quarters. The highly efficient virtually failure-proof LED generates tactical-level light-ideal for close to long-range target identification for 1.5 hours per set of batteries.
Activating the SureFire X300 Ultra is done via intuitive, ambidextrous switches-now wider and shorter for improved ergonomics-at the rear of the body. Simply press the switch on either side for momentary-on activation or flip up or down for constant-on activation. Optional DG grip switches (for handguns) and pressure-activated XT tape switches (for long guns) permit the X300 Ultra to be activated remotely.
The SureFire X300 Ultra can be securely attached to a handgun or a long gun via its new and improved T-slot mounting system. Universal and Picatinny crossbar wedges are included for simple, foolproof installation. Its high-strength aerospace aluminum body-including the mounting system-is Mil-Spec hard anodized for superior toughness and it is O-ring sealed, making it weatherproof.
SureFire X300U WeaponLight Features:
• High-performance 600 Lumen LED
• Regulated to maximize tactical-level output and runtime per set of batteries
• TIR lens creates focused high-intensity beam for close- to longer-range applications
• Integral aluminum T-slot mounting system
• Rock-solid attachment to railed hand guns and long guns equipped with MIL-STD 1913 rails
• Weatherproof-O-ring and gasket sealed
• Construction-High-strength aerospace aluminum with Mil-Spec anodizing
• Coated, tempered window
• Accepts optional DG pistol grip and XT remote long gun tape switches
• Includes high-energy 123A batteries with 10-year shelf life
SureFire X300U LED WeaponLight Specs:
• Max Output: 600 lumens
• Tactical Runtime**: 1.5 hours
• Bezel diameter: 1.125 inch
• Length 3.6"
• Weight (w/batteries): 4.0 ounces
• Batteries: two (2) 123A (included)
**Runtime until output drops below 10% of maximum output.
---
Available Accessories
Safariland 6280 Level II Mid-Ride Duty Holster - Tac Light
Learn more...

Safariland 6004 Tactical Holster - Double Leg Strap
Learn more...

SureFire DG Grip Switch Assembly for X-Series
Learn more...

SureFire 123A - 3-Volt Lithium Batteries - Card of 2
Learn more...

Tenergy Lithium CR123A (3V) Propel Battery, PTC Protected
Learn more...

Energizer 123 (EL123), 3V Lithium Battery - Bulk
Learn more...