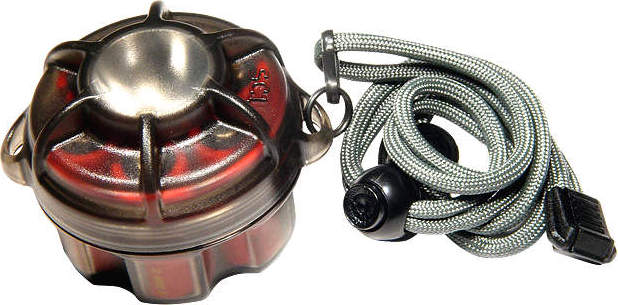 Click on image for larger view
SureFire SC1 Spares Carrier
Our Price $18.10 | You Save 10% | Retail $20.00
No: 18-1620 | Mfg: SC1
The SureFire SC1 Spares Carrier for Executive Series* and lamps with attached reflectors.
Impact-resistant, watertight polymer container provides storage for one spare lamp assembly and six 123A lithium batteries. The SC1 is a "must have" item for prepared individuals. Batteries & Lamp not included. The SureFire SC1 Spares Carrier is also suitable as a battery-only carrier for any 1-battery, 2-battery, or 3-battery LED flashlight.
SureFire SC1 Spares Carrier Fits: P60, P61, P90, P91, R30, R60, MN01*, MN02*, MN03*, MA02
*Due to their smaller size, Executive Series lamps do not fit snugly in the SC1. SureFire recommends that Executive Series lamps be surrounded with a user-supplied buffering material, such as plastic foam or cotton, to achieve a snug, rattle-free fit.
SureFire SC1 Spares Carrier Features:
• Impact-resistant
• O-ring sealed, watertight
• Wrist lanyard included
---
Low-Priced 3V Lithium Batteries