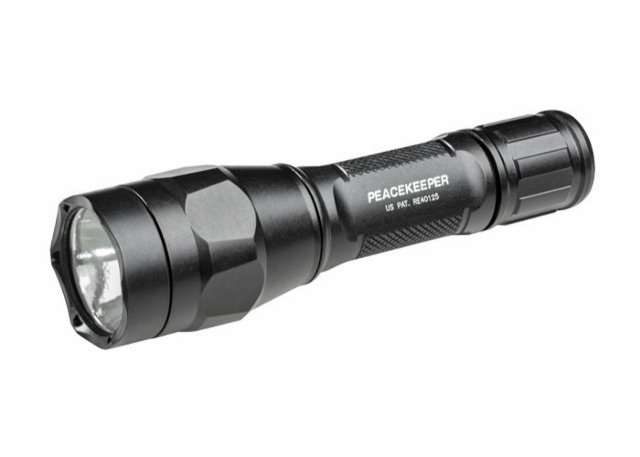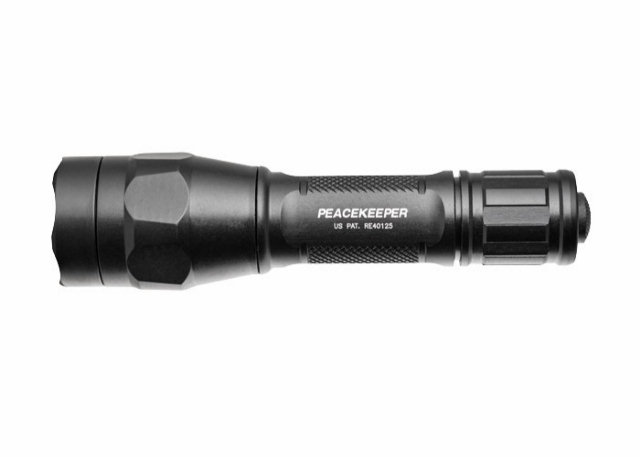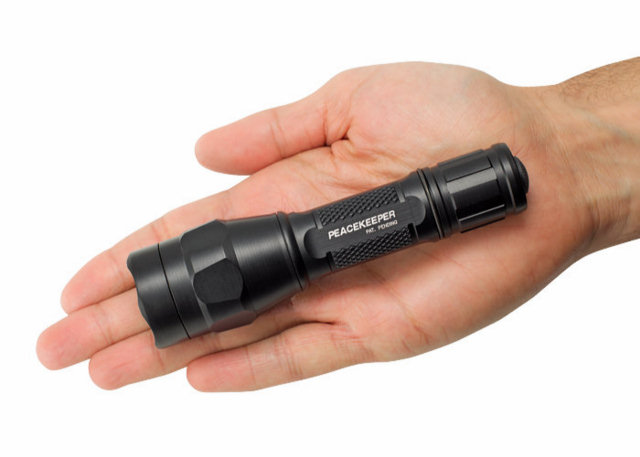 Click on images for larger view
SureFire P1R Peacekeeper - Rechargeable Ultra-High Dual-Output LED Flashlight
Our Price $237.50 | You Save 5% | Retail $250.00
No: 18-1210 | Mfg: P1R-B-BK

Free Shipping on this item
The SureFire P1R Peacekeeper is a powerful, dual-output LED flashlight developed for those who patrol our streets. This game-changing rechargeable boasts a virtually indestructible high-performance LED that's focused by a precision reflector to produce a brilliant 600-lumen beam on high with significant reach and substantial peripheral illumination for situational awareness. And its compact, knurled body make the P1R ideal for use with a handgun. It also features a useful 15-lumen low-output setting that provides extended runtime for close-up tasks.
The first press or click of its click-type tailcap switch unleashes a stunning 600-lumen beam, which is perfect for threat identification and overwhelming the dark-adapted vision of an aggressor. Press or click a second time, within two seconds, to produce a 15-lumen low-output beam ideal for close- to medium-range tasks and greatly extended runtime. On either setting, the tailcap switch allows selection of momentary-on activation when pressed, or constant-on activation when clicked.
The SureeFire P1R Peacekeeper is powered by a readily available 18650 lithium-ion battery that's easily recharged using either an AC wall charger or a DC vehicle charger, both included. It can also be powered by two disposable 123A lithium batteries, if necessary.
Constructed of aerospace aluminum with knurling for a secure grip, the body is Mil-Spec hard anodized for maximum durability. The body is also O-ring and gasket sealed for dirt and water resistance. Built for law enforcement, the rugged dual-output P1R Peacekeeper delivers exceptional performance for both tactical and non-tactical applications.
SureFire P1R Peacekeeper Features:
• Virtually indestructible high-output LED regulated to maximize output and runtime
• Reflector shapes far-reaching beam with intense center and significant surround light for peripheral vision
• Dual-output tailcap click switch
• Coated, tempered window resists impact and maximizes light output
• Weatherproof-O-ring and gasket sealed
• Constructed of high-strength aerospace aluminum with Mil-Spec hard anodizing for extreme durability
• Includes energy-dense 18650 lithium-ion rechargeable battery, AC charger, and DC car charger
• Backed by SureFire's No-Hassle Promise
SureFire P1R Peacekeeper Specs:
• Lumen Output: High - 600 / Low - 15
• Runtime: High - 1.75 hours* / Low - 46.0 hours*
• Length: 5.5"
• Bezel Diameter: 1.37"
• Weight w/Batteries: 6.2 ounces
• Batteries: One (1) Li-ion rechargeable or two (2) 123A
• * Runtime per ANSI standard
NOTE: Runtimes shown measured when using li-ion rechargeable batteries.
---
Battery and Charger
SureFire Rechargeable Lithium-ion Battery
Learn more...

SureFire Rechargeable Lithium-ion Battery Kit for P1R Peacekeeper Models
Learn more...