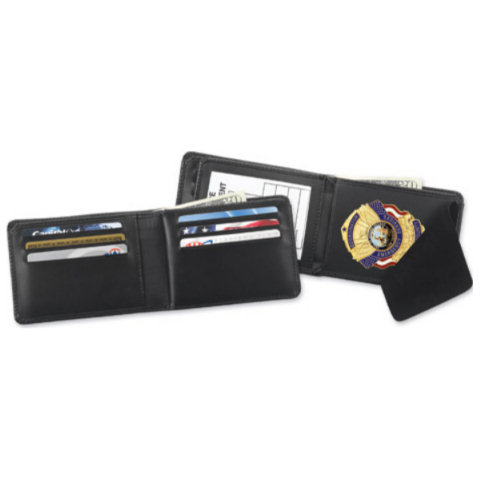 Click on image for larger view
Strong Leather Horizontal Hidden Badge RFID Wallet, ID Size
Our Price $26.70 | You Save 18% | Retail $32.75
No: 53-5220
Prevent identity theft with Stong Leather's RFID Shielding Leather Badge Wallets that protect against unauthorized RF scanning of personal and departmental information.
STRONG LEATHER's security barrier prevents RF detection at 13.56MHz and in the 860-980MHz ranges. This patent pending material limits the flow of RF energy between the reader and the smart card.
This Strong Leather Hidden Badge RFID Wallet offers a horizontal profile while still concealing the badge and ID sections. It includes two compartments for money and credit card sections.
Strong Leather Horizontal Hidden Badge RFID Wallet Features:
• RFID (Radio Frequency Identification) protection
• Dress Style side opening badge case
• Recessed flat badge cutout
• Flap protects badge
• Available in Black Plain finish
• Max. ID 2-3/4" x 4" and badge width 2-3/4"
• CDCR Star Max. ID 3" x 4" and badge width 3"
---