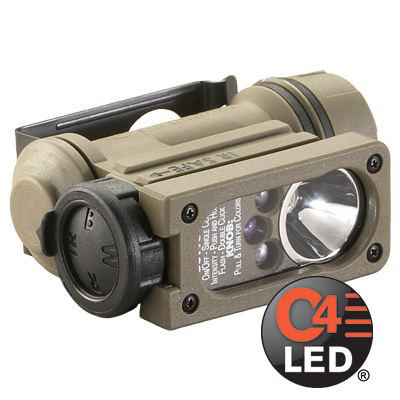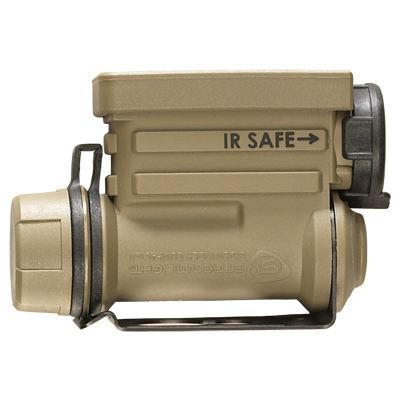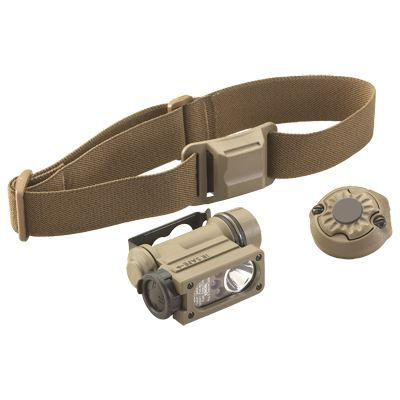 Click on images for larger view
Streamlight Sidewinder Compact II Military
Our Price $92.20 to $97.94 | You Save 30% | Retail $131.72 to $139.91
No: 10-5840
The Streamlight Sidewinder Compact II is an ultra-compact, high performance, multi-battery, multi-source LED flashlight with C4® LED technology. This flashlight has been engineered to meet a variety of hands free task illumination requirements with various color LEDs operable at varying outputs and runtimes. The flashlight features a 185 degree tilting body and belt or web clip to allow positioning of the illumination source at the work area.
The Streamlight Sidewinder Compact II accepts multiple power sources: one CR123A lithium battery, one AA lithium battery or one AA alkaline battery to provide ultimate flexibility in the field.
The same great features as the original Sidewinder Compact®: lightweight, multi-directional and multi-functional. The difference? It accepts a variety of different battery types to ensure you always have a power source wherever and whenever duty calls.
Sidewinder Compact® II Flashlight Features:
• Uses one 3V CR123A lithium battery (included)
• Also accepts 1 AA lithium battery or 1 AA alkaline battery
• Four individual light sources:
• C4® LED, white, impervious to shock with 50,000Hr lifetime
• 5mm Blue LED, 470 nm peak wavelength, with 100,000Hr lifetime
• 5mm IR LED, 880 nm peak wavelength, with 100,000Hr lifetime
• 5mm Red LED, 630 nm peak wavelength, with 100,000Hr lifetime
• Pull-to-turn rotary selector knob
• Prevents accidental mode changes
• Allows selection of LED color
• Rubber dome actuator
• 4 position pull-to-turn locking rotary selector knob
• IR LED tactile indicator provides easy operation
• Powers on at low output
• Progresses to high intensity in four discrete steps
• IR Safe mode
• Prevents accidental activation & battery depletion while in IR mode
• Double-click push button to initiate strobe
• All LED colors have a strobe function
• 185° tilting body
• Rotates 360° on helmet mount
• Durable clip attaches to helmet, headstrap or MOLLE vest
• Cord attachment hole provided in clip
• 3 meter impact resistance tested
• IPX7/waterproof to 1 meter for 30 minutes
• O-Ring and gasket sealed openings
• Meets MIL-STD-810F, Method 512.4
• Color: Coyote
Sidewinder Compact II Flashlight Specs:
• Length: 3.00 in., Width: 1.07 in., Depth: 2.04 in.
• Weight: 3.3 ounces with CR123 battery & optional Helmet Mount
• Battery: 1 CR123A, 1 AA Lithium or 1 AA Alkaline
• Lithium cells allow operation in extreme temperature(-40F to 140F)
Sidewinder Compact II Flashlight Output:
• White C4 LED: 55 Lumens
• 5mm IR LED: 25mW/sr (min) radiant intensity
• 5mm Red LED: 1.5 Lumen
• 5mm Blue LED: 1.8 Lumens
Sidewinder Compact II Flashlight Run Time w/CR123 or AA Lithium Battery:
• White LED - Low 10% Output- 70+ Hrs/High 100% Output- 6 Hrs
• IR LED - Low 10% Output- 100+ Hrs/High 100% Output- 16 Hrs
• Red LED - Low 10% Output- 100+ Hrs/High 100% Output- 16 Hrs
• Blue LED - Low 10% Output- 100+ Hrs/High 100% Output- 12 Hrs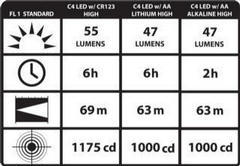 ---
Available Accessories