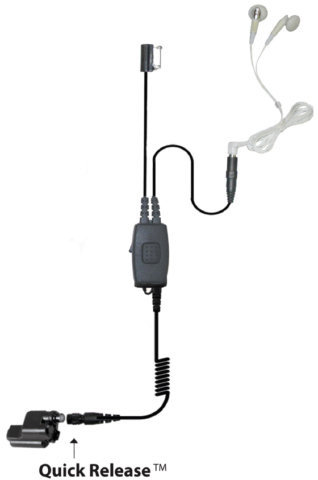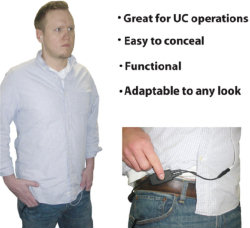 Click on images for larger view
Snake 2-Wire Covert Surveillance Kit - QR Adapter
Our Price $91.60 to $119.10 | You Save 8% | Retail $99.95 to $129.95
No: 83-5170

Selections over $99 qualify for FREE Shipping.
SNAKE Ultimate Surveillance Kit is ideal for undercover operations. Never before has an earphone been so discrete.
The Snake kit includes a low-profile highly sensitive microphone that covertly clips under a simple t-shirt, while the audio jack assumes a typical iPod style appearance. With your hands in your pocket, you can inconspicuously access the belt-clip PTT button. The Snake adapts to any look because of its "easy to conceal" features.
We Recommend Quick Release: Quick Release option costs only a few dollars more, buth there are many cost-saving benfits.
This innovation allows the user to disconnect the microphone from the radio without removing the radio adapter.
4 Reasons To Choose Quick Release

• Reduce wear & tear on the radio
• Replacements are more affordable
• Features easy & secure attachment & release
• Conveniently switch between different accessories
Snake 2-Wire Covert Surveillance Kit w/Quick Release Features:
• Great for Undercover operations
• Easy to conceal
• Functional
• Quick Release radio adapter included
• Click Here for Radio Connector Reference Guide
---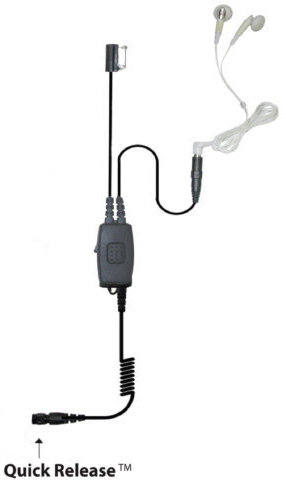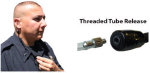 Click on images for larger view
Snake 2-Wire Covert Surveillance Kit - Mic Kit without QR Adapter
Our Price $59.50 | You Save 7% | Retail $63.95
No: 83-5183 | Mfg: EP605QR
Replacement microphone and ear piece elements with Quick Release only. Radio adapter can be purchased seperately.
---