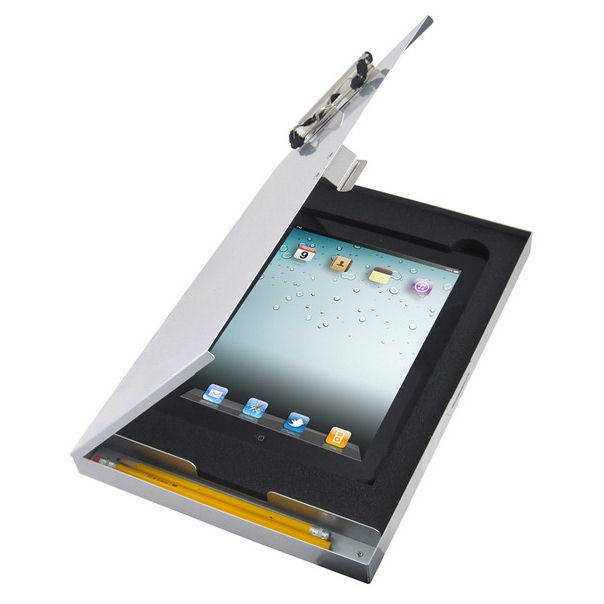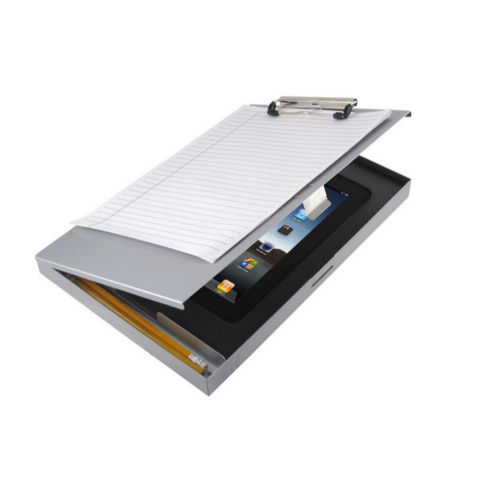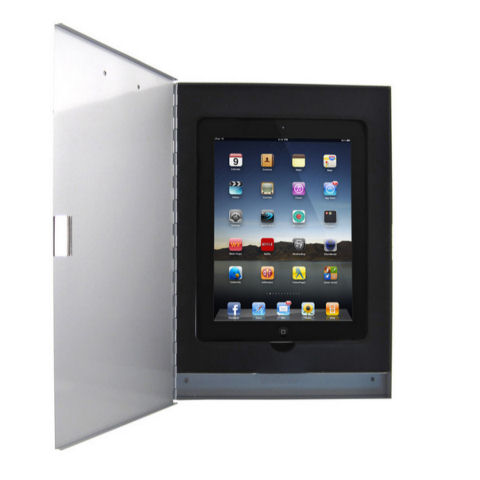 Click on images for larger view
Saunders Tuff Writer for iPad, Silver Aluminum

Fits all iPad 2/3
Our Price $36.39
Retail $55.98 | You Save 35%
No: 16-5410 | Mfg: 45450
Fits all iPad Air
Our Price $36.39
Retail $55.98 | You Save 35%
No: 16-5411 | Mfg: 45451
Upgrade to a clipboard for your iPad for the ultimate mobile workstation!
The Saunders Tuff Writer is available with durable high density foam specifically designed to hold an iPad 2/3 or iPad Air! A convenient thumb hole provides quick access to the On/Off button, allowing for full functionality of the iPad. The recycled aluminum storage compartment features a tray for small supplies, writing instruments and your stylus. Additional space is available for a pad of paper or your loose documents on top of the foam. The side open access allows for one handed use for optimum productivity You will be organized like never before!Police officers and firemen can document with ease using both the iPad and hard surface for note taking.
Store your iPad, loose documents, writing pads, small utensils and more! Pens, pencils, stylus and other small items fit perfectly in the fully accessible pencil tray. A durable latch feature allows you to hear that your product is closed tightly. The wire reinforced hinge is sturdy and dependable and designed for heavy use. Over 1/2" of paper can be stored under the premium low profile clip secure, keeping your documents safe from windy weather. This is the most unique iPad case youll ever use!
The Saunders Tuff Writer for iPad is made in the USA using recycled aluminum with at least 50% post-consumer waste. The high density foam is designed with you in mind. Specifically designed to retain its shape, the foam is long lasting and will not absorb water or humidity. Feel confident that your tablet will be protected from the elements inside the Saunders Tuff Writer that is proudly made in the USA by Americans who are blind. The high density crosslink polyethylene foam will not stretch, shrink or become misshapen always allowing for a snug hold.
Saunders Tuff Writer for iPad Features:
• Side opening design holds iPad 2/3 or iPad Air and other supplies
• Storage compartment features a durable foam nest that securely stores an iPad
• The high density foam is designed to hold its shape, without absorbing humidity or water
• Easy access to the On/Off button, and allows quick removal of tablet
• Low profile clip holds up to 1/2" of paper securely
• Fits paper size up to 8.5" x 12", Overall size: 9.25" W x 13.5 " L x 1.25"
• Made in the USA using recycled aluminum with at least 50% post-consumer waste
---