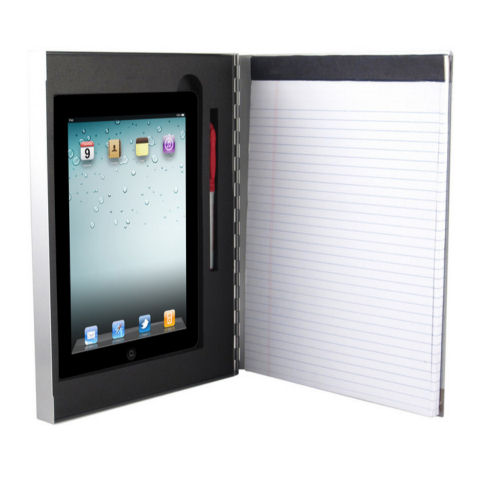 Click on image for larger view
Saunders Padfolio for iPad, Silver Aluminum

Fits all iPad 2/3
Our Price $32.47
Retail $49.95 | You Save 35%
No: 16-5415 | Mfg: 64557
Fits all iPad Air
Our Price $32.47
Retail $49.95 | You Save 35%
No: 16-5416 | Mfg: 65557
The Saunders Padfolio for iPad 2/3 offers the convenience of a tablet and writing pad all in one! Designed for left or right handed users, the tablet can be removed and reversed for a comfortable writing experience. Reusable and refillable, the Padfolio with foam for tablet is the tool you need. Ideal for students, teachers, coaches, handymen, law enforcement and office work, the Padfolio with foam for iPad keeps all of your needed information in one place.
The included recycled writing pad is proudly made in the USA by Americans who are blind. Lined with durable high density foam, the storage compartment holds the iPad securely in place. An easy access hole was provided for use of the sleep/wake button to allow for full functionality of the iPad. Law enforcement can reconstruct an accident with the tablet and while writing a statement. Fire officials can document damage while making their own notes on the side.
Store your iPad, loose documents, writing pads, small utensils and more! Padfolio made in the USA using recycled materials with at least 50% post-consumer waste. Foam made in the USA.
Saunders Padfolio for iPad Features:
• Side opening design holds iPad 2/3 or iPad Air and other supplies
• Storage compartment features a durable foam nest that securely stores an iPad
• Includes recycled writing pad is proudly made in the USA by Americans who are blind
• The high density foam is designed to hold its shape, without absorbing humidity or water
• Easy access to the On/Off button, and allows quick removal of tablet
• Low profile clip holds up to ½ in. of paper securely
• Fits paper size up to 8.5" x 12", Overall size: 9.25" W x 13.5 " L x 1.25"
• Made in the USA using recycled aluminum with at least 50% post-consumer waste
---