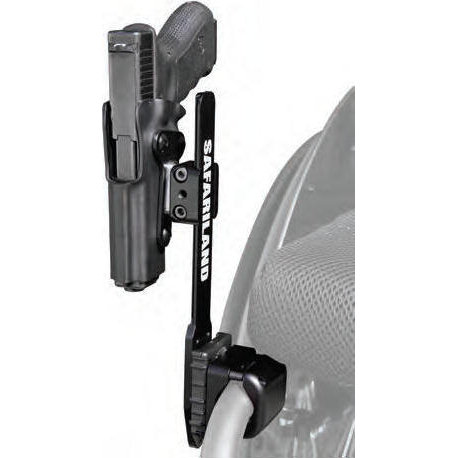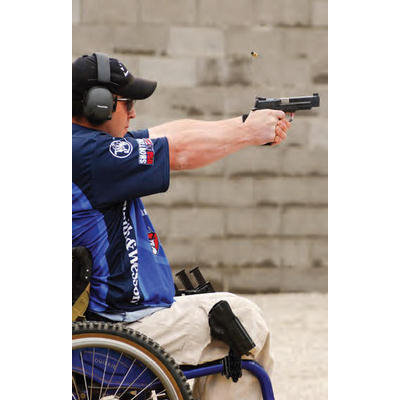 Click on images for larger view
Safariland WCM Competition Wheel Chair Mount

Production Class Holsters

Our Price $160.00
Retail $200.00 | You Save 20%
No: 23-7090 | Mfg: WCM-KIT1-2
014 Holster

Our Price $140.00
Retail $175.00 | You Save 20%
No: 23-7091 | Mfg: WCM-KIT2-2
Magazine Pouches

Our Price $180.00
Retail $225.00 | You Save 20%
No: 23-7092 | Mfg: WCM-KIT3-2
Safariland is pleased to introduce an exciting new concept in competition shooting, the WCM Wheel Chair Mount is a dedicated mounting system for wheelchair-bound competitive shooters. More than a year in the making, this system was developed with input from wounded warrior Trevor Baucom and Team Safariland shooters. The Model WCM Wheel Chair Mount line includes three product offerings: a Production Class Holster Mount (for holsters such as the Safariland #5198); the Safariland Model 014 Open Class Holster Mount; and a Competition Magazine Pouch Mount.
Offered in black anodized aluminum, the WCM Mount Kits are IDPA, USPSA and NRA approved for competition shooting.
The clamp system can be adjusted for use on both vertical and horizontal sections of wheelchair armrest or frame. The ELS Fork and Receiver on mounting bracket allow for quick removal of holster, weapon and magazine pouches between stages.
Safariland WCM Competition Wheel Chair Mount Features:
• Constructed of high-strength, lightweight 6061-T6 aluminum
• Adjustable height levels
• Heavy-duty design to ensure very limited movement while drawing
• Rigid design mounts firmly to wheelchair allowing for a consistent draw
• Ambidextrous
• Designed to fit frame tubes from .75" to 1.25"
• Full range of adjustment of holster & magazine pouches to accommodate each shooter
• Designed to work with production, open, and limited division holsters
---