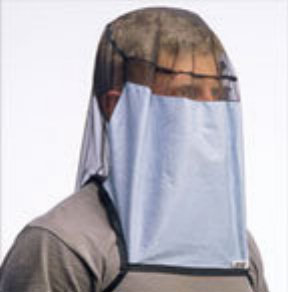 Click on image for larger view
Safariland SpitNet Transport Hood

Strap Model - 1 Unit
Our Price $8.99
No: 19-1735 | Mfg: 19-1736x1
Strap Model - 5 Units
Our Price $40.50
No: 19-1736 | Mfg: 8310-0-2C
Strap Model - 100 Units

Our Price $699.00
Retail $736.50 | You Save 5%
No: 19-1737 | Mfg: 8310-0-2B
The Safariland SpitNet Transport Hood affixes under the arms for additional security while transporting threatening subjects. Ideal for prisoner transport, the Spit Net protects against spitting and biting.
The mesh netting and bacteria-filtering fabric gives the subject full visibility and breathability while helping restrict the spread of biological contaminants.
Safariland SpitNet Transport Hood ~Strap Model Features:
• Enhances officer safety
• Single-use
• Straps under arms
• Available in 1, 5 or 100 unit quantities
Note: The SpitNet Transport Hood should not be used on any person that is unconscious, vomiting, in respiratory distress or in obvious need of medical attention. Anyone wearing a hood should be under constant supervision of the responsible parties.
---