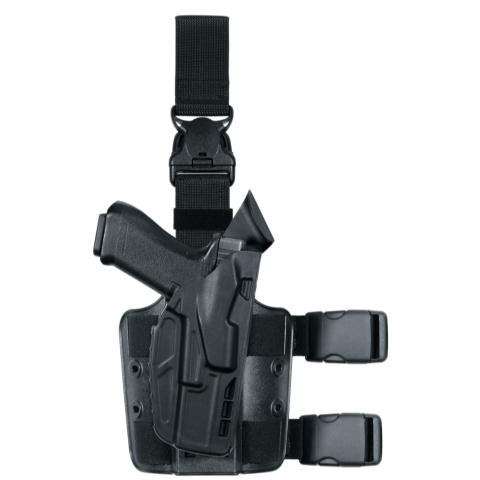 Click on image for larger view
Safariland 7TS 7355 ALS Tactical Holster w/Quick Release
Our Price $171.70 | You Save 15% | Free Shipping
Retail $202.00
No: 23-1405
Note: Items highlighted in Green and/or state "In Stock" are immediately available as of 02/24/2018. Items highlighted in Blue or state "Restocking" are stock items and will ship as soon as stock arrives. Click for More Information

These items all qualify for FREE Shipping.
The next generation in holster design from Safariland®, the leader in technology and innovation. The 7TS™ Series is extremely rugged and offers the ultimate in durability. Constructed from SafariSeven™, a proprietary DuPont™ nylon blend, these holsters are practically impervious to the elements. SafariSeven allows very high tolerances to heat and cold and requires virtually no maintenance to keep them functioning and looking good. These holsters feature precision injection molding and are incredibly lightweight.
Seven Features of the 7TS
• Proprietary nylon blend that is completely non-abrasive to a firearm's finish
• Raised stand-off surfaces in interior of holster creates air space around the weapon allowing dirt and moisture to quickly clear any contact with the firearm
• Very high heat tolerance; structurally sound at 300 degrees F
• Very low cold tolerance; structurally sound at -50 degrees F
• Can be submerged in water indefinitely and still maintain shape and function
• Matte finish decreases reflection and can be maintained with a simple scouring pad
• Compatible with all Safariland® holster mounting options
The Safariland 7TS 7355 ALS Holster is an open top tactical holster that features the Automatic Locking System (ALS®). Once the weapon is holstered, it locks into place. When the ALS is de-activated by the thumb, a simple straight up draw is used.
Safariland 7TS 7355 ALS Tactical Holster Features:
• ALS® (Automatic Locking System) secures weapon once holstered
• Simple straight up draw once release is deactivated
• Open-top design without SLS for quick retrieval of weapon
• Constructed of SafariSeven™, a proprietary nylon blend that is completely non-abrasive to a firearm's finish
• Raised stand-off surfaces in the interior of the holster create air space around the weapon allowing dirt and moisture to quickly clear any contact with the firearm
• Very high heat and low cold tolerances structurally sound from 300 degrees F to -50 degrees F
• Can be submerged in water indefinitely and still maintain shape and function
• Matte finish designed to decrease reflection and can be maintained with a simple scouring pad
• Standard double strap leg shroud with mounting holes for optional accessories
• Adjustable vertical leg strap with quick-release detachable leg harness
• Available SafariSeven colors: Plain Black & FDE Brown
---
Available Accessories