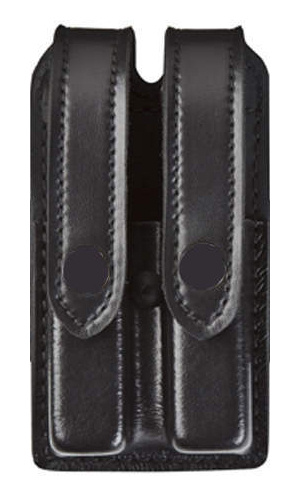 Click on image for larger view
Safariland 78 Leg Shroud Accessory, Slimline Double Magazine Pouch
Our Price $32.20 | You Save 20%
Retail $40.25
No: 23-6135
Note: Items highlighted in Green and/or state "In Stock" are immediately available as of 02/17/2018. Items highlighted in Blue or state "Restocking" are stock items and will ship as soon as stock arrives. Click for More Information
The Safariland Model 78 for Tactical Leg Shrouds is a truly innovative magazine pouch design and allows the carry of two magazines in a space much slimmer than traditional style mag pouches. The magazines run "face out" instead of "side out" to help conserve space and limit the width on the leg shroud.
A magazine tension screw located between the two pouches allows for easy magazine retention adjustment and a top flap keeps the magazines held in place and covered.
Safariland Model 78 Slimline Double Pistol Magazine Pouch - Tactical

• Double mag pouch tactical accessory
• Magazines are oriented "face out" to save space on belt
• Optimal for use on tactical rigs due to minimal width
• For most full-size pistols
• Fastens to Tactical Accessory Base
• Mounting hardware included
• Snaps match color of mag pouch
• STX Colors: Black, Foliage, OD Green, FDE Brown & Coyote Brown
SPECIAL NOTE: This item is a leg shroud accessory and not for use on duty belts.
---