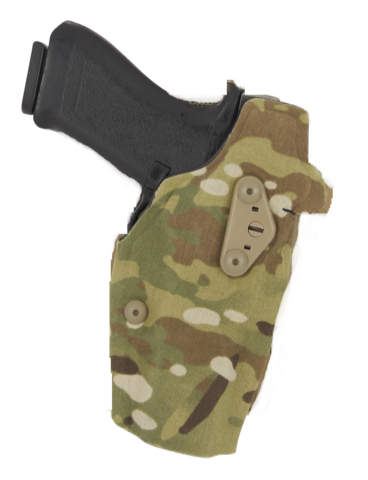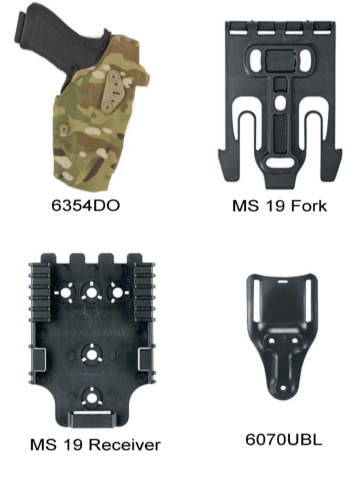 Click on images for larger view
Safariland 6354DO ALS Tactical Holster - Tac Light w/MS30 & 6070UBL
Our Price $154.70 | You Save 15% | Free Shipping | Retail $182.00
No: 23-5350

These items all qualify for FREE Shipping.
The Safariland 6354DO ALS Optic Tactical Holster w/Tactical Lights features a Cordura wrap that both limits the infrared signature and provides a unique finish. This holster has a compact profile for minimal interference with other equipment - perfect in a tactical environment. This Safariland 6354DO ALS Optic Tactical Holster has mounted an appropriate colored Safariland QLS 19 Locking Fork, QLS 22 Receiver Plate and 6070UBL Mid-Ride Belt Loop Adapter.
ALS retention is an open-top design that is drawn with a natural thumb only operation; no fingers in trigger guard area. This model can also be used in conjunction with the model 6006 ALS Guard for increased security.
Available in MultiCam, Ranger Green, Coyote, Khaki or Black.
Safariland 6354DO ALS Optic Tactical Holster Features:
• ALS (Automatic Locking System) secures weapon once holstered
• Simple straight up draw once release is deactivated
• Open-top design without SLS for quick retrieval of weapon
• For use with red dot optic-equipped weapons
• Cordura nylon-wrap finish reduces Infrared (IR) Signature
• SafariLaminate™ thermal-molded construction protects handgun and sights
• QLS 19 Locking Fork, QLS 22 Receiver Plate and 6070UBL Mid-Ride Belt Loop Adapter
• Suede lined to protect handgun's finish
• Cordura Colors: MultiCam®, Ranger Green, Coyote, Khaki or Black
• Available for Glock 17, 22, 34, 35 weapons with tactical lights
---
Tactical Lights & Accessories