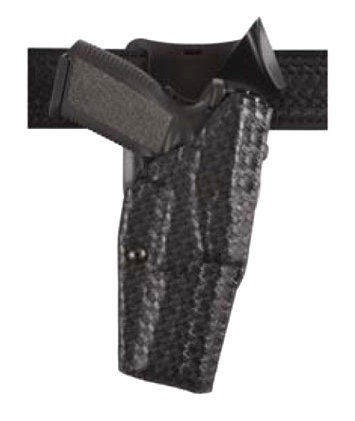 Click on image for larger view
Safariland 6325 ALS Duty Holster
Our Price $101.15 | You Save 15% | Free Shipping
Retail $119.00
No: 23-0770
Note: Items highlighted in Green and/or state "In Stock" are immediately available as of 02/22/2018. Items highlighted in Blue or state "Restocking" are stock items and will ship as soon as stock arrives. Click for More Information

These items all qualify for FREE Shipping.

The Safariland Model 6325 is an ALS™; Duty Holster without the SLS. The Automatic Locking System secures the weapon once it is holstered and is operated by the thumb.
Once the device is de-activated a simple straight up draw can be used. The 6325 offers the 1.50" drop version.
Safariland Model 6325 Features:
• 1.5" drop belt loop
• Level I Retention
• Hood Guard is standard
• Slim, compact design allows weapon to ride close to body
• Simple straight up draw once all releases are de-activated
• Finishes: STX Tactical, STX Plain, STX Basketweave
NOTE: The Safariland 6320 & 6325 models of holsters are being gradually discontinued by Safariland and being replaced by the 6390 & 6395 holsters. If you do not see your weapon fit here, check the 6390 & 6395 holsters for your weapon.
---
Available Accessories