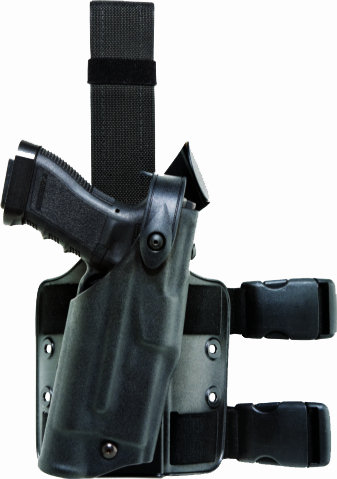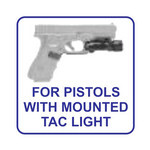 Click on images for larger view
Safariland 6304 ALS Tactical Holster - Tac Light
Our Price $195.50 | You Save 15% | Free Shipping
Retail $230.00
No: 23-5210
Note: Items highlighted in Green and/or state "In Stock" are immediately available as of 02/24/2018. Items highlighted in Blue or state "Restocking" are stock items and will ship as soon as stock arrives. Click for More Information

These items all qualify for FREE Shipping.
Safariland 6304 Tactical Holster for Pistols with Mounted Tactical Light

This Safariland 6304 Holster is designed to accommodate mounted tactical lights from manufacturers such as Glock, Insight, Streamlight and SureFire.
The Safariland Model 6304 Tactical Holster includes all the features of the popular 6004 Tactical holster with the addition of SAFARILAND's exclusive Automatic Locking System (ALS®). The Safariland 6304 also includes a Tactical finish which protects the gun in scrape, scratch and dent incidents while the SafariSuede™ lining help protect the sight and finish. The key to comfort and stability of the Model 6304 is the double leg strap and the leg shroud.
Safariland 6304 ALS Tactical Holster Features:
• ALS™ Automatic Locking System
• Secures weapon once holstered
• Features SLS hood assembly
• Includes Hood Guard
• Uses same leg shroud as the 6004 holster
• Straight up draw when releases are open
• Optional Sentry available
• Safari-Laminate™ construction
• Protects handgun and sights
• Standard double leg strap and leg shroud
• Includes mounting holes for optional accessories
• Adjustable vertical leg strap
• STX Finishes: Tactical™, FDE Brown, Foliage, OD Green & Coyote Brown
• Click here for Pistol Light Guide
---
Tactical Lights & Accessories