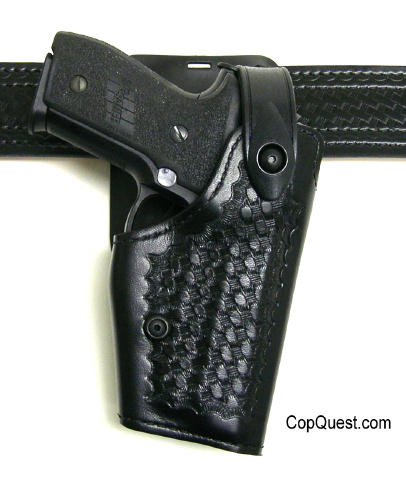 Click on image for larger view
Safariland 6285 Level II Low-Ride Duty Holster
Our Price $152.15 | You Save 15% | Free Shipping
Retail $179.00
No: 23-2200
Note: Items highlighted in Green and/or state "In Stock" are immediately available as of 02/24/2018. Items highlighted in Blue or state "Restocking" are stock items and will ship as soon as stock arrives. Click for More Information

These items all qualify for FREE Shipping.
Also available for pistols with mounted tactical lights

The Safariland 6285 Holster is the base holster of the Self-Locking System holsters. This duty version features a unique rotating hood design. Since there is no snap the "SLS" allows for a smoother single-motion draw and greater protection against attempted weapon takeaways. The hood can only be released by being simultaneously pushed down and rotated forward and actually becomes more secure when upward force is applied. It is also far less likely to release accidentally than conventional thumb break snaps.
The Safariland 6285 Holster is a Level II Retention holster with a top draw and straight drop cant, a style popular with major police departments and a personal choice for individual officers.
The Safariland 6285 Holster features a tensioning device, molded sight track and Safari-Suede lining to protect the gun's finish. Its wraparound construction provides the strongest design combination available. The Model 6285's Safari-Laminate structure makes these features possible.
Safariland's rigid UBL anchors the holster and stabilizes it on the duty belt with hardened aerospace fasteners. The holster and belt become one unit, a real advantage when executing crisp, clean draws. The Safariland Model 6285 lowers the holster body and handgun grip by 1.50".
Safariland 6285 Holster Features:
• 1-1/2 inch drop loop
• Universal Belt Loop (UBL) backplate
• Safari-Suede lined
• Available in Plain, Basketweave, Nylon Look, and Hi-Gloss finish
---
Safariland 6285 Accessories