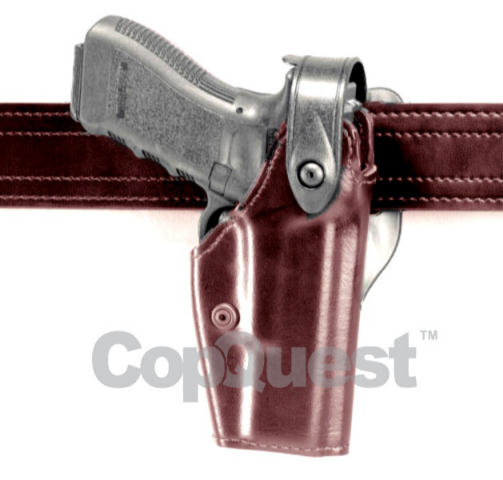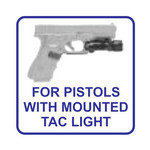 Click on images for larger view
Safariland 6285 Level II Low-Ride Duty Holster - Tac Light - Cordovan
Our Price $174.60 | You Save 10% | Free Shipping | Retail $194.00
No: 23-9100

These items all qualify for FREE Shipping.
The Safariland 6285 Low-Ride Tac Light Holster in Cordovan is esigned to accommodate mounted tactical lights from manufacturers such as Streamlight and SureFire.
This SLS System holster features the patented rotating hood and tensioning device for increased weapon retention, yet still affords ease of draw and quick, secure reholstering. Safariland's Retention Level II Duty Holsters provide the optimum combination of safety and performance for police officers and others who carry handguns in tactical situations.
The Safariland 6285 Holster is a top draw, straight cant holster. Manufactured of long-lasting Safari-Laminate™ and lined with suede to protect your gun's finish.
The Safariland 6285 Holster features a tensioning device, molded sight track and Safari-Suede lining to protect the gun's finish. Its wraparound construction provides the strongest design combination available. The Model 6285's Safari-Laminate structure makes these features possible.
Safariland's rigid UBL anchors the holster and stabilizes it on the duty belt with hardened aerospace fasteners. The holster and belt become one unit, a real advantage when executing crisp, clean draws. The Safariland Model 6285 lowers the holster body and handgun grip by 1.5".
Safariland 6285 Low-Ride Level II Holster - Tac Light - Cordovan Features:
• For pistols with mounted Tactical Lights
• SLS (Self Locking System)
• Low-Ride belt loop drops holster and handgun grip by 1.5"
• Top draw and straight drop cant
• Level III with optional Sentry Guard installed
• Universal Belt Loop (UBL) backplate
• Safari-Suede lined
• Available in Cordovan Finishes: Plain & Basketweave
• Click here for Pistol Light Guide
---