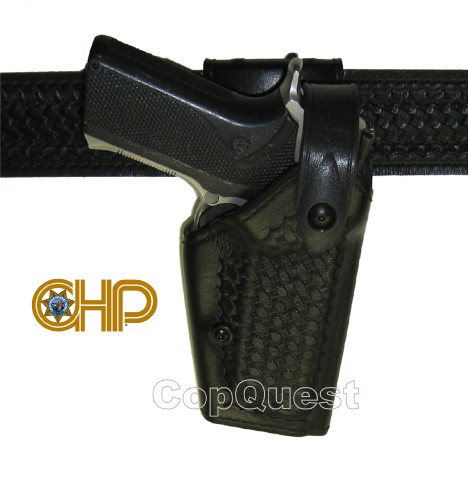 Click on image for larger view
Safariland 6280 Level II Mid-Ride CHP Duty Holster
Our Price $152.15 to $164.90 | You Save 15% | Free Shipping | Retail $179.00 to $194.00
No: 23-1100

These items all qualify for FREE Shipping.

This holster is designed for the California Highway Patrol to accommodate the S&W 4006TSW pistol. Two models are available for use with or without mounted Streamlight TLR-1 tactical light. Both models feature the required OBL style belt loop.
This SLS System holster features the patented rotating hood and tensioning device for increased weapon retention, yet still affords ease of draw and quick, secure reholstering. Safariland's Retention Level II Duty Holsters provide the optimum combination of safety and performance for police officers and others who carry handguns in tactical situations.
The Safariland 6280 holster is a top draw, straight cant holster. Manufactured of long-lasting Safari-Laminate™ and lined with suede to protect your gun's finish.
Safariland 6280 Holster - CHP Features:
• For the S&W 4006 TSW CHP Duty Pistol
• Includes OBL style belt loop
• Models with or without mounted light
• Mid-ride
• Safari-Suede lined
• Basketweave Finish
---
Tactical Lights & Accessories