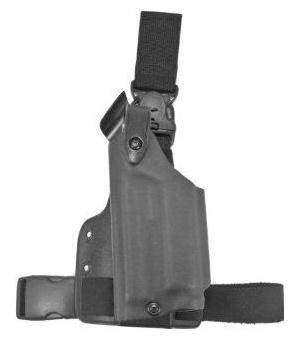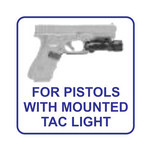 Click on images for larger view
Safariland 6005 Tactical Holster - Single Leg Strap - Tac Light
Our Price $175.10 | You Save 15% | Free Shipping | Retail $206.00
No: 23-5145

These items all qualify for FREE Shipping.
Safariland 6005 Holster - Single Leg Strap for Pistols with Mounted Tactical Light
SAFARILAND® has engineered a complete tactical system you carry on your leg specially designed to be the ultimate in protection and easy access to your handgun.
The system is modular, so the exact accessories in addition to your handgun, such as flash bangs, magazines, knives ' are right at your fngertips, ready for action. And, because you can mount them on the leg shroud, when operations change, you simply switch accessories to match the situation.
The Safariland 6005 tactical holster features the SLS rotating hood system allowing a smoother single-motion draw and greater protection against attempted weapon takeaways. Thermal-molded Safaril-Laminate™ construction protects handgun and sights. The tactical finish of the holster is rugged, protecting the gun in scrape, scratch and dent incidents. Molded sight track and soft Safari-Suede protect the gun's sights and finish. Single leg strap and leg shroud includes mounting holes for optional accessories.
Safariland 6005 Tactical Holster - Single Leg Strap - Tac Light Features:
• Features the SLS (Self Locking System) rotating hood system
• SLS allows for a smoother, single motion draw
• Greater protection against attempted weapon takeaways
• Hood Guard is standard; optional Sentry available
• Thermal-molded SafariLaminate™ construction protects handgun and sights
• Single leg strap and leg shroud with mounting holes for optional accessories
• Adjustable vertical leg strap with quick release detachable leg harness
• Includes 3X™ Triple Locking Buckle
• Offered for weapons with rail mounted lights
• Suede lined to protect handgun's finish
• Leg shroud features silicon strap for nonslip traction
• Available in STX Finishes: Tactical® Black, Foliage Green, OD Green, FDE Brown, Coyote Brown
• Click here for Pistol Light Guide
---
Tactical Lights & Accessories