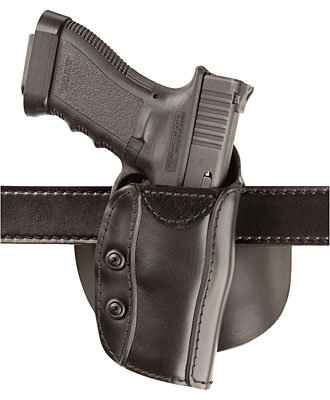 Click on image for larger view
Safariland 568 Custom Fit Paddle/Belt Loop Holster
Our Price $42.40 | You Save 20%
Retail $53.00
No: 23-2550
Note: Items highlighted in Green and/or state "In Stock" are immediately available as of 02/22/2018. Items highlighted in Blue or state "Restocking" are stock items and will ship as soon as stock arrives. Click for More Information
The Model 568 Custom Fit holster is one of the lightest, thinnest, best fitting concealment holsters available. True to its name, it adjusts to a wide variety of popular handguns, giving each a "custom fit" in this holster. Its new, ergonomically designed paddle will contour and conform to the wearer's body for unparalleled comfort and concealability. In just four fits, this design can accommodate over 100 handguns.
The 568 features an all-new ergonomic injection molded paddle designed for concealability and comfort.
It now also comes standard with the 567BL belt loop to fit 1.5-inch abd 1.75-inch belt slots. Other style belt loop adapters can be ordered separately.
This design offers varied cant angle and it can even be worn crossdraw. IDPA approved.
The holster features genuine SafariLaminate™ construction with suede lining to help protect the gun's finish.
Safariland Model 568 Custom Fit Paddle/Belt Loop Holster Features:
• Injection molded paddle
• Belt slide attachment
• Designed for concealability
• Comfortable to wear
• IDPA Approved
• Genuine SafariLaminate™ construction
• Suede lining to help protect the gun's finish
• Available in STX Plain Finish
---
Optional Belt Attachment Model 567BL