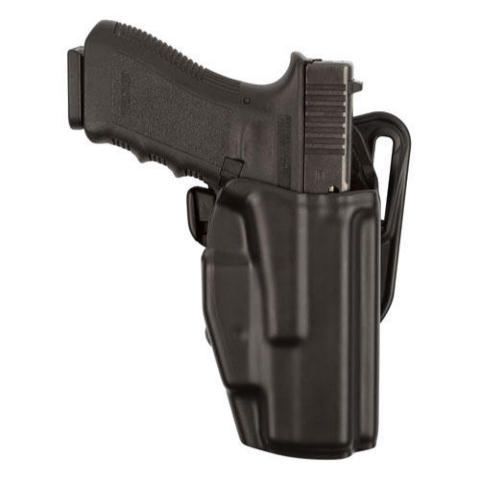 Click on image for larger view
The Safariland GLS™ 5377 holster features a unique retention device in which the middle finger is used to release the firearm. With a proper shooting grip, the middle finger sits directly on the GLS™ lever, and during the draw, the lever is depressed allowing for a smooth and easy straight-up draw.
The Safariland GLS™ 5377 holster offers a low profile and compact design, perfect for concealability. The low-cut sides allow for a rapid draw and easy re-holstering. The SafariLaminate™ construction provides an excellent fit in a durable, lightweight holster.
Safariland 5377 GLS Concealment Belt Slide Holster Features:
• GLS™ (Grip Lock System) secures weapon once holstered
• Retention device is de-activated by the middle finger upon a standard shooting grip
• SafariSuede™ lining helps remove dirt and oil and helps to protect the guns finish
• Low-cut and compact design makes concealment easy while also allowing for a quick draw
• Raised stand-off surfaces in the interior of the holster create air space around the weapon
• Allows dirt and moisture to quickly clear any contact with the firearm
• 3-Hole pattern on holster backing
• Compatible with all Safariland mounting accessories
• 567BL belt loop fits 1.5 in. to 1.75 in. belts
---