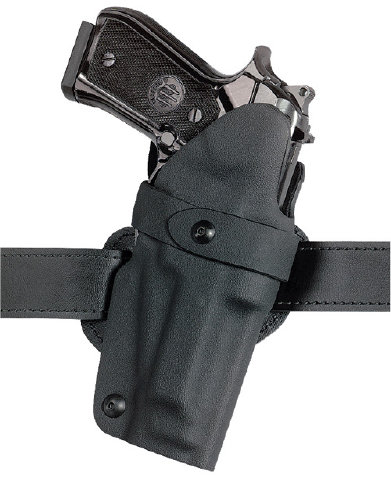 Click on image for larger view
Safariland 0701 Concealment Belt Holster
Our Price $60.00 | You Save 20%
Retail $75.00
No: 23-2340
Note: Items highlighted in Green and/or state "In Stock" are immediately available as of 02/25/2018. Items highlighted in Blue or state "Restocking" are stock items and will ship as soon as stock arrives. Click for More Information
The Model 0701 concealment holster was developed and patterned after 070 SSIII™ Duty Holster. The 0701 features a dual retention system consisting of the trigger guard strap and the internal "lock".
The 0701 holster is molded from SafariLaminate™ to match your particular gun and model insuring a snug fit. The durable, thermal-molded wraparound laminate is stronger and lighter than leather, and it won't rot mildew or deform. A super-tough SafariLaminate™ outer layer adds further protection and breakage resistance.
The concealment holster's mid ride belt position and slight tilt forward make it comfortable to wear and allow a smooth draw in a natural motion. For maximum effectiveness, Safariland recommends you use a Safariland reinforced belt.
If you already use Safariland's 070 duty holster, you'll feel right at home with the 0701 concealment holster. If not, a little training will allow you to achieve a fast draw or cross draw even with the double retention system. The 0701 concealment holster is also easy to use when you're seated in a car.
• Dual retention system - trigger guard strap & internal lock
• Mid-ride belt position
• Slight tilt forward for comfortable wear and smooth draw
• Tough outer layer adds further protection
• Available in STX Tactical finish
---