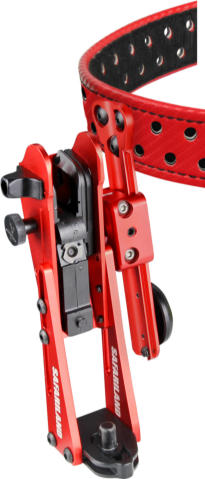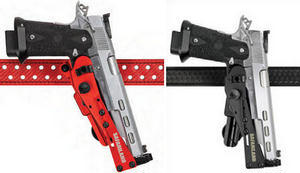 Click on images for larger view
Safariland 014 Open Class Competition Holster
Our Price $160.00 | You Save 20% | Free Shipping | Retail $200.00
No: 23-8025

These items all qualify for FREE Shipping.
The Safariland® 014 Open Class Competition Holster is the next generation of competition holster for the Open and Limited Class shooter. It is fully adjustable, compact and lightweight, and features an adjustable slider bar for the muzzle retainer that will help keep from knocking handgun out of holster while seated. The 014 is made of hard anodized aluminum and features a limited movement pivot ball providing four axis adjustments. The adjustable trigger guard locking mechanism holds the handgun securely in place during rigorous activity. An ambidextrous design, removable belt loop and height adjustment bar allow the shooter to customize the positioning of the holster to maximize comfort for improved performance. This new holster will either mount on belts up to 1.75" wide or mount directly to the ELS belt.
Note: 032 ELS Competition Belt NOT included with 014 Holster.
Safariland 014 Open Class Competition Holster Features:
• Body Machined out of aluminum to stabilize the handgun
• Offers little resistance for a secure and fast draw
• Ball joint on holster allows complete freedom of movement to customize the handgun draw
• Fully adjustable nosepiece accommodates barrels from 5" to 7.5"
• Fits a variety of competition handguns, w/wo red dot or magnified optics
• Injection-molded adjustable trigger guard lock
• Front nosepiece designed to retain handgun
• Helps prevent gun from being knocked out of the holster once seated
• Incorporates a simple push lock which secures handgun into the trigger block
• Available in Black or Red
The Safariland 014 Open Class Competition Holster can be used in the following compition divisions:
• Bianchi Open
• USPSA Open
• USPSA Limited
• USPSA Limited 10
• USPSA Multi-Gun ALL
• Steel Challenge Limited, Open
---
Available Accessories