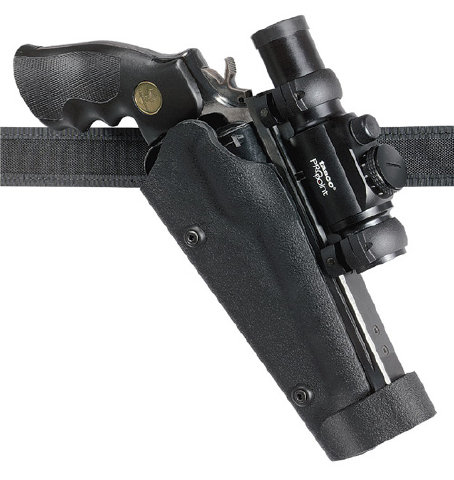 Click on image for larger view
Safariland 002 Cup Challenge Competition Holster
Our Price $63.20 | You Save 20% | Retail $79.00
No: 23-8010
The Safariland Model 002 Cup Challenge Competition Holster is a competition revolver holster designed for NRA Action Shooting Competition and general combat courses. It will accomodate revolvers with or without scopes as well as most revolvers with standard, heavy and slab side barrels.
The 002 features dual, adjustable tension screws on the holster body; one in back of cylinder and the other in back of the barrel. These tension screws allow a balanced retention of the handgun.
Full grip clearance and an open front ensure a fast smooth draw. A removable muzzzle strap comes standard in order to protect the gun sights and give the holster maximuum flexibility for different types of competition.
A hook and loop lined belt tab provides a firm and adjustable carry when used with Safariland 028 or 4350 buckleless hook-and-loop lined competition belts. With this unique belt-to holster hook and loop system, holster cant or angle can be quickly changed with no loss of weapon stability.
Safariland Model 002 Cup Challenge Competition Holster Features:
• Accommodates scoped and non-scoped revolvers
• Accomodates most revolvers w/ std, heavy, & slab side barrels
• Built-in removable muzzle strap protects front sights
• STX Tactical or STX Basketweave
---
Available Accessories