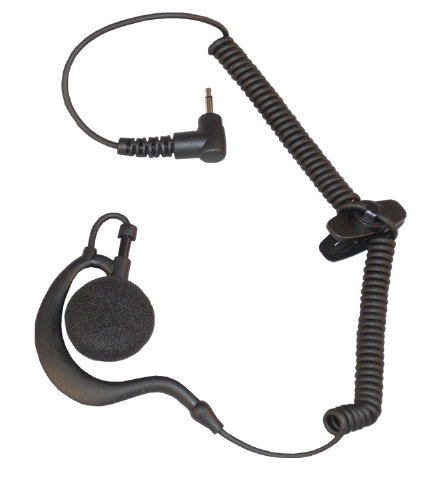 Click on images for larger view
Rabbit Listen Only Earpiece, Large Speaker - 9 inch Cable - Large Speaker

2.5mm Right Angle Plug
Our Price $18.35
Retail $19.99 | You Save 8%
No: 83-5060 | Mfg: EP2BCLS
3.5mm Right Angle Plug
Our Price $18.35
Retail $19.99 | You Save 8%
No: 83-5061 | Mfg: EP1BCLS
Keep the upper hand in any situation with the Rabbit "Listening Only Earpiece".

The Rabbit "Listening Only" Classic Ear Hook is made of soft flexible rubber. In addition to comfort, the "outer" earpiece feature allows the unit to be worn by multiple users without compromising hygiene. The comfortable Large 25mm earphone speaker is worn on the outside of the ear providing a high level of comfort. The speaker rotates to affix to either ear and moves up and down for a custom fit.
This unit is for listening only and should be used with a shoulder microphone that is equipped with a either a 2.5mm or 3.5mm audio jack.
Rabbit Listen Only Earpiece Features:
• Made of soft flexable rubber
• 25mm Speaker rests securley over ear
• Speaker earphone is worn on outside of ear
• 1 year warranty on all parts
2.5mm right angle plug fits Speaker Mics for the following radios (refer to Radio Connector Reference Guide):
• MO-7
• KE-1
• MA-1 & MA-3
3.5mm right angle plug fits Speaker Mics for the following radios (refer to Radio Connector Reference Guide):
• MO-4, MO-6, MO-8
• KE-2
• IC-1, IC-4
• All Vertex Radios
Click Here for Radio Connector Reference Guide
---