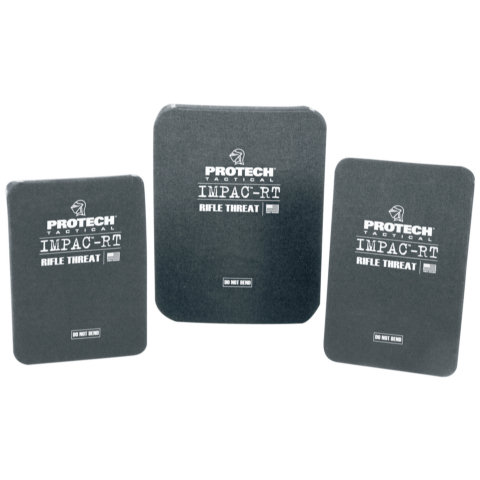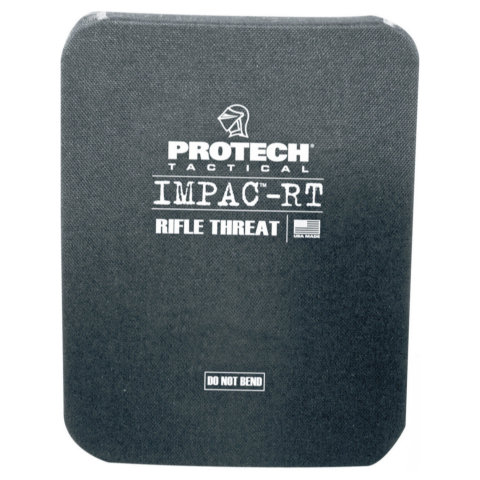 Click on images for larger view
ProTech IMPAC-RT Rifle Threat Plates

5 x 7-inch

Our Price $320.00
Retail $400.00 | You Save 20%
No: 89-1215 | Mfg: 1001621
5 x 8-inch

Our Price $336.00
Retail $420.00 | You Save 20%
No: 89-1216 | Mfg: 1001633
7 x 9-inch

Our Price $432.00
Retail $540.00 | You Save 20%
No: 89-1217 | Mfg: 1001669
NOTE: This product is available to Law Enforcement and Military Personnel.
Click here for General Law Enforcement/Military only item restrictions
For protection beyond the norm, the ProTech IMPAC-RT (Rifle Threat) provides officers the ability to protect themselves against high-powered rifle rounds. Made of ultra high-pressed polyethylene ballistic material, the IMPAC-RT is the same hard armor technology trusted in their ProTech Tactical brand.
NOTE: ProTech IMPAC special threat plates are tested stand-alone but are intended to be used ICW (In-Conjunction With) an NIJ approved flexible body armor vest.
ProTech IMPACT-RT Rifle Threat Plate Features:
• 100-percent polyethylene composite
• Three sizes offered
• Lightweight
• Designed to protect against rifle threats
ProTech IMPACT-RT Rifle Threat Plate sizes & weights:
• 5" x 7": 1.2 lbs
• 5" x 8": 1.3 lbs
• 7" x 9": 2.00 lbs
• Thinness: 0.9"
ProTech IMPACT-RT Rifle Threat Plate tested against:
• 7.62 x 51 mm, 147 gr. FMJ (NATO) (M 80): 2 impacts per plate
• 7.62 x 39 mm, 123 gr. MSC (Mild Steel Core): 2 impacts per plate
• .22 Cal., 17 gr. FSP - V50
• .30 Cal., 44 gr. FSP - V50
---