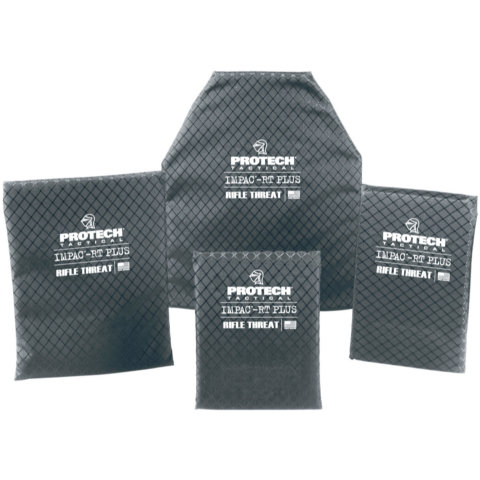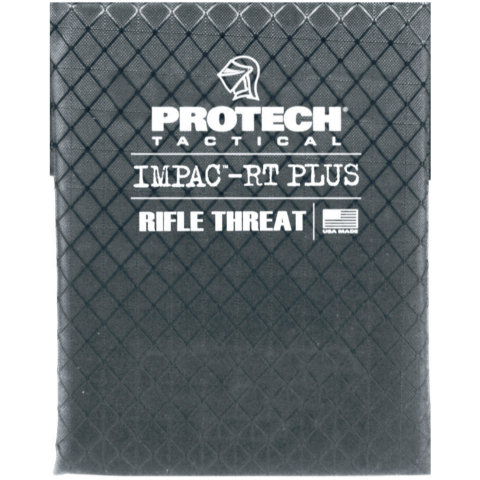 Click on images for larger view
ProTech IMPAC-RT PLUS Rifle Threats Plus Plates
Our Price $128.00 to $208.00 | You Save 20% | Free Shipping | Retail $160.00 to $260.00
No: 89-1220

These items all qualify for FREE Shipping.
NOTE: This product is available to Law Enforcement and Military Personnel.
Click here for General Law Enforcement/Military only item restrictions
Built upon the performance of the ProTech IMPAC-RT plate for rifle threats, the ProTech IMPAC-RT PLUS provides heavy duty protection in a sleek design. The IMPAC-RT Plus is made of a hybrid steel and fiberglass composite and is covered with heat bonded spall wrap to help reduce spalling, fragmentation and ricochet from ballistic impacts.
NOTE: ProTech IMPAC special threat plates are tested stand-alone but are intended to be used ICW (In-Conjunction With) an NIJ approved flexible body armor vest.
ProTech IMPACT-RT PLUS Rifle Threat Plate Features:
• Hybrid steel and fiberglass composite
• Four sizes offered
• Designed to protect against heavy duty rifle threats
ProTech IMPACT-RT PLUS Rifle Threat Plate sizes & weights:
• 5" x 7": 2.8 lbs
• 5" x 8": 3.10 lbs
• 7" x 9": 4.7 lbs
• 10" x 12" Shooter's cut: 7.3 lbs
• 10" x 12" Rectangle:
ProTech IMPACT-RT PLUS Rifle Threat Plate tested against:
• 7.62 x 51 mm, 147 gr. FMJ (NATO) (M 80): 1 impact per plate
• 7.62 x 39 mm, 123 gr. MSC (Mild Steel Core): 2 impacts per plate
• 5.56 x 45 mm, 55 gr. (M 193): 3 impacts per plate
• 5.56 x 45 mm, 62 gr. (M 855) (SS109): 3 impacts per plate
---