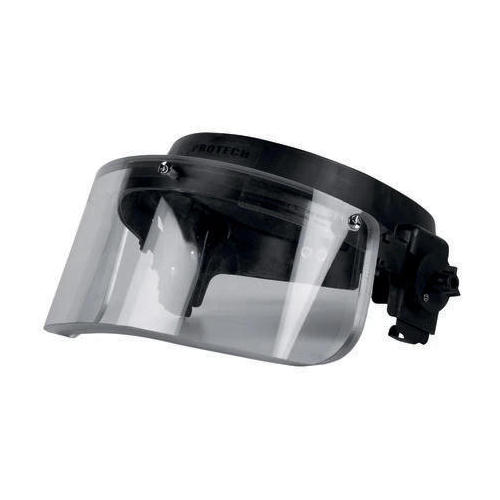 Click on image for larger view
ProTech Ballistic Face Shield
Our Price $8.95 to $291.00 | You Save 11% to 25% | Retail $10.00 to $390.00
No: 89-1025

Selections over $99 qualify for FREE Shipping.
SPECIAL NOTE: This ProTech product is restricted to active Law Enforcement and Military Personnel ONLY.
LE/Military Restricted Item Form:
• Click here for General Law Enforcement/Military only item restrictions

The ProTech 702 family of ballistic face shields is designed to offer ballistic protection to meet various threats. The 702L is designed to defeat a single hit, the 702M is designed to defeat multiple hits and the 702MT is designed to defeat multiple hits and special threats.

The curved design of the Ballistic Face Shield by Protech offers complete facial protection from the helmet brim to below the chin area. A unique band-fastening system permits quick attachment or detachment and eliminates drilling that could affect ballistic integrity.
ProTech Ballistic Face Shield Features:
• Designed for both Full-Cut and Mid-Cut Ballistic Helmets
• Manufactured of polycarbonate/acrylic laminate
• Curved design offers complete facial protection from the helmet brim to below the chin area
• Unique band-fastening system permits quick attachment or detachment and eliminates drilling
ProTech Ballistic Face Shield Single Hit 702L Features:
• Defeats single hit from 9mm FMJ 124 gr. With a velocity of 1200 fps
• NIJ 0108.01 testing using the 9mm FMJ 124 gr. Level II round only
• Size: 6" x 15" (15.24cm x 38.10cm)
• Weight: 2.3 lbs. (1.04 kg)
ProTech Ballistic Face Shield Multi Hit 702M Features:
• Defeats multiple hits from 9mm FMJ 124-gr. with a velocity of 1200 fps
• Size: 6" x 15" (15.24 cm x 38.10 cm)
• Weight: Approx. 2.5 lbs. (1.09 kg)
• NIJ 0108.01 testing using the 9mm FMJ 124 gr. Level II round only
ProTech Ballistic Face Shield Multi Hit (Tokarev) 702MT Features:
• Defeats multiple hits from a 9mm FMJ 124-gr., .44 Mag 240-gr. SWCGC, and 7.62 x 25mm Steel Jacket (Tokarev)
• Size: 6" x 15" (15.24 cm x 38.10 cm)
• Weight: Approx. 2.5 lbs. (1.13 kg)
---