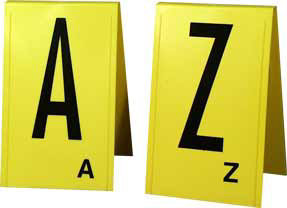 Click on image for larger view
Photo Evidence Letter Set A to Z - 26 Count
Our Price $99.95 | No: 43-5200 | Mfg: 6-8026

Free Shipping on this item
Alphabet markers are used at a crime scene to indicate discovery, collection, or photographic sequence. Some agencies use letters instead of numbers for the actual scene photograph.
These markers are 7 1/4" x 4 1/2" heavy yellow plastic with a matte finish and black numbers. The A-frame style allows the numbers to nest for compact storage, with ridges on the edge of each marker to ensure that the numbers will not rub off when nested or stacked.
Each marker also have small letters in the corner for close-up photographs.
---