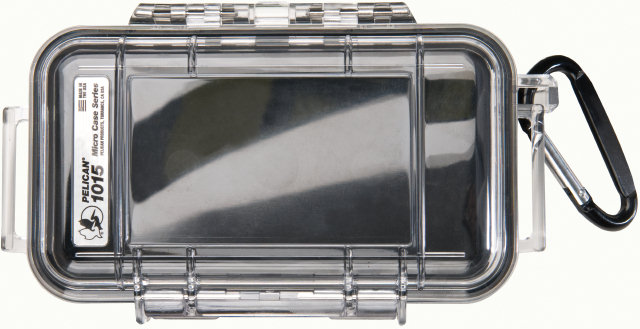 Click on image for larger view
Pelican 1015 Micro Case with Liner
Our Price $16.90 | You Save 26% | Retail $22.84
No: 28-0515
GREAT FOR RUGGED SPORTS - NOT FOR SWIMMING OR SUBMERGING
Pelican 1015 Micro Case Features:
• Fits small portable electronics such as cameras & cell phones
• Active sport carabiner secures 1015 to backpack or belt loop
• Easy open latch
• Rubber liner for extra protection doubles as o-ring seal
• Stainless steel hardware
• Lifetime Guarantee of Excellence
• Water resistant, crushproof, and dust proof
Interior Dimensions:
• 5.14" x 2.64" x 1.37" (13.1 x 6.7 x 3.5 cm)

There are several new cell phone models that fit in the Pelican 1015 Micro Case. They include:


• BlackBerry® Torch™ (Blackberry Devices have the headphone jack on the side instead of on top so they do not fit into the i1015 while the headphone portion is plugged in)
• BlackBerry® Bold™
• BlackBerry® Curve™
• BlackBerry® Storm2™

NOTE: These are not the only phones that will fit in these cases. Any phone that has the following dimensions (5.14" x 2.64" x 1.37") or (13.1 x 6.7 x 3.5 cm) will fit.
---