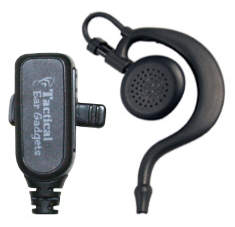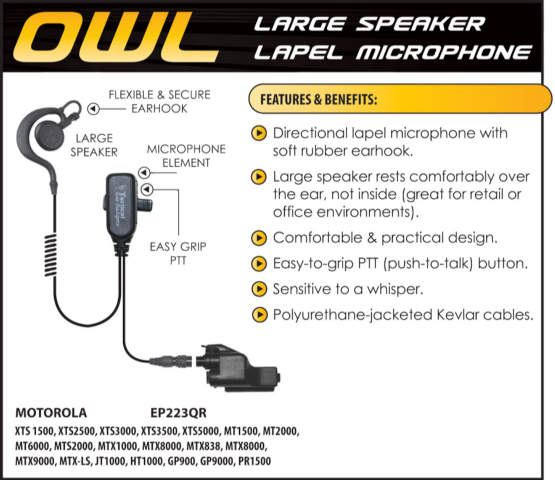 Click on images for larger view
Owl Lapel Microphone - Quick Release
Our Price $45.80 to $100.55 | You Save 8% | Retail $49.99 to $109.74
No: 83-5220

Selections over $99 qualify for FREE Shipping.
The Owl contributes to a professional atmosphere where advanced, yet affordable communication technology is valued and applied.
The new large speaker allows the Owl to rest comfortably over the ear instead of inside the ear. Due to the fact that the earpiece is worn on the outside of the ear, the OWL is ideal for an office or retail environment that requires sharing the unit without compromising hygiene. The speaker rotates to affix to either ear and moves up and down for a custom fit. The unit comes with our traditional whisper sensitive lapel microphone and foam cover for the speaker.
We Recommend Quick Release: Quick Release option costs only a few dollars more, buth there are many cost-saving benfits.
This innovation allows the user to disconnect the microphone from the radio without removing the radio adapter.
4 Reasons To Choose Quick Release

• Reduce wear & tear on the radio
• Replacements are more affordable
• Features easy & secure attachment & release
• Conveniently switch between different accessories
Owl 200 Series Lapel Mic w/Quick Release Features:
• New large speaker rest comfortable over the ear, not inside
• Discreet & durable directional lapel microphone
• Comfortable and practical design
• Polyurethane-jacketed, Kevlar-lined cables for extended life
• 1 year warranty on all parts
• Optional Quick Release radio adapter
• Click Here for Radio Connector Reference Guide
---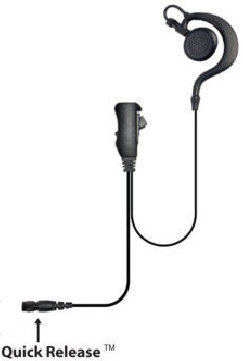 Click on image for larger view
Owl Lapel Microphone - Mic Kit without Quick Release Adapter
Our Price $36.65 | You Save 8% | Retail $39.99
No: 83-5234 | Mfg: EP205QR
Replacement microphone and ear piece elements with Quick Release only. Radio adapter can be purchased seperately.
---